How and Why to Implement an Auto-Attendant on Your Phone System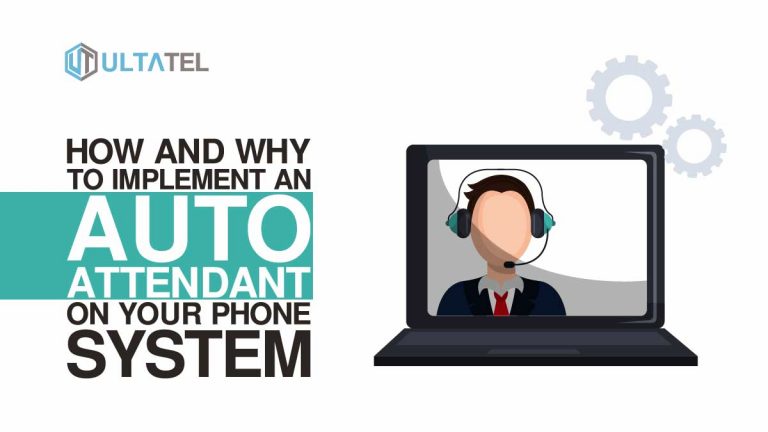 Phone systems play a very important role in business. Thus, businesses need to automatically answer and transfer incoming calls to a specific location. Such an auto-attendant system works without a live receptionist or operator involved.
An auto-attendant is essential as your business grows and customer service calls start increasing.
With an efficient and reliable phone system in place, you can route calls effectively and make an excellent first impression on every potential customer. This, in turn, will have a direct impact on sales and boost your bottom line.
In a nutshell, an auto-attendant provides a system to handle your calls as professionally as possible.
What is an Auto-Attendant?
Also known as an automated attendant, auto-receptionist, or virtual receptionist, an auto-attendant is a telephony voice menu system. It eliminates the need for human intermediaries such as a receptionist or telephone operator when transferring callers to the right extension or department.
Auto-attendants are common in contact center settings because they ensure that the call flow is more efficient.
How an Auto-Attendant Works
Modern auto-attendant systems work by leveraging VoIP technology to play the role of an automated answering service. In addition, these phone systems feature a dial-by-name directory that lists users by name, last name, or department. Auto-attendant hardware typically consists of an IP Phone and its adapters.
It allows the caller to press a key or use their voice to automatically ring an extension once the auto-attendant announces a prompt.
Where a user is not available, the digital receptionist directs callers to their voicemail where a user is not available or leaves a message. The system uses an auto-attendant script to interact with callers.
Benefits of an Automated Attendant
Being a crucial component of a business phone system; automated phone systems offer several benefits that may not seem obvious. Here are some of the most outstanding benefits of installing an auto-attendant on your phone system.
1. Better customer service experiences
Companies using an auto-attendant system allow their customers to experience superior customer service.
Imagine customers not having to deal with a human who steps away from their desk for lunch or to get a breather. Phone systems are also quicker to acknowledge each call, creating happier and more satisfied customers in the process.
2. Cost reduction
It costs far less to install and maintain an auto-attendant system instead of employing a human receptionist.
It's mostly a one-time investment with small maintenance fees now and then. In contrast, humans will most likely cost a recurring wage or salary plus other financial perks to keep them on staff.
3. Employees can focus on work that matters
Employees usually have to achieve several goals in a given workday.
Answering calls from disgruntled customers who might not even know exactly what they need can significantly impact workplace efficiency. Auto-attendant systems provide a way around this, allowing your employees to use time more efficiently and have clarity of mind to focus on more important tasks.
4. Filter and manage call flow
What better way is there to ensure that answering and routing of calls are prompt and effective? Callers can then reach the proper destination, specific employee, and department extension.
This implies that when your company uses an auto-attendant system, it provides a quick way for callers to choose precisely what they want to do or who they wish to speak with.
For instance, there may be different options for "sales assistance" and "technical support."
What's the Difference Between Auto-Attendant and IVR?
Auto-attendant and Interactive Voice Response (IVR) are similar technologies but they have their differences.
While an auto-attendant is similar to a switchboard operator in helping the customer reach a specific individual or department more efficiently, there's usually no need for additional information.
On the other hand, an IVR system may never need a human in the loop. This is because it can provide and collect details from the caller.
IVR systems may also use a script to provide callers with information based on the caller's responses or circumstances. These solutions can also have data-driven routing, post-call surveys, and appointment reminders or notifications.
| Auto-Attendant | IVR |
| --- | --- |
| Professional voiceover recordings used in place of a receptionist | "Smart" interactive system for automating tasks involving numbers and Yes/No answers |
| Suitable for welcoming callers, identify the business, and connect them to the appropriate department | Excellent solution for shortening call queues |
| Routes calls to a queue or voicemail box | Users can interact with the system using voice or numbers on a phone keypad |
| Does not collect information from users | Can collect or provide information from callers |
| It's a simpler system, so there are no add-ons | Can feature add-ons such as surveys and routing |
| Typically a basic telephone system | Higher level of interaction with callers using technology such as voice recognition |
| Limited options for interaction | Offers more interactivity options |
Auto-Attendant Best Practices
Instead of limiting an automated attendant to a mere greeting that forwards calls to employees, you can get more creative in the process.
For instance, call management tools such as, calling queues, hold music, search-by-name company directory, and so forth can make the mix more exciting.
Here are a few best practices any company can use to enhance their auto-attendant system:
Develop a visual chart of the entire call flow
When an organization asks how to make an auto-attendant, it's first necessary to map out the entire call flow to fully capture all caller options and ensure there are no mistakes or omissions. It helps callers know exactly who they should talk to, and provides an exit and return option where necessary.
Only use professional voice talents
This will keep a consistent tone and enunciation for the highest clarity. This option prevents possible legal issues that may arise when an employee whose voice you used leaves your company.
Include relevant on-hold messaging features
Sometimes, no one is available to take a call in a department. Auto-attendants can route callers to on-hold messaging features until someone attends to a caller. It's a creative way to manage their time while sharing relevant information or prompting them to have specific details or paperwork on hand for the call. They're also useful to announce promotions or special events.
Final Thoughts on Auto-Attendant
In case you're wondering why you need an auto-attendant system at your company, they build an important layer of efficiency onto your existing customer service infrastructure. With a robust design and commitment to excellent implementation, you can be certain that your company will win long-term customers and improve revenue.
As a leading expert in digital marketing, integrated campaigns and marketing strategies, Tim has led award-winning marketing communications teams for several communications companies. In addition to serving as the Director of Marketing for ULTATEL, he is also the Kansas City president for the American Marketing Association.