10 Powerful Benefits of VoIP Phone Systems for Businesses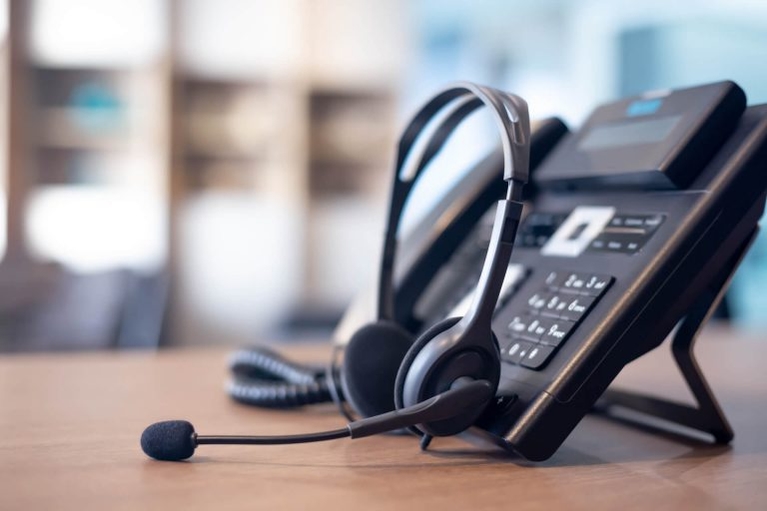 No matter what business you're in, whether e-commerce, healthcare, education, hospitality, or customer service — the benefits of VoIP still outweigh its risks. That probably explains the continuous growth of the VoIP market worldwide from 2014 to 2024 (as projected by Statista).  
If you're thinking of switching from an old-school telephone to VoIP, this article discusses the advantages and disadvantages of VoIP phone systems so you can make an informed choice.
Advantages of VoIP
One of the biggest benefits of VoIP for business is that it reduces costs in various ways. For example, the fact that it supports remote work eliminates office spaces and daily transportation. Read more benefits below and how each one can boost your business.
Lowers monthly telecom expenses
Makes working remotely easier
Helps you avoid missed calls
Maintains communication regardless of location
Supports teams of any size
Excellent call quality
Ensures security
Saves money on international and long-distance calls
Multiple features that boost productivity
Improves customer relationships
1. Lowers monthly telecom expenses
The average traditional phone service cost can range from $40 to $50 a month, which can increase your bills. That's because traditional phone systems require separate hardware and possibly additional IT support. Not to mention, the installation costs at the beginning.
VoIP service providers, on the other hand, can charge as low as $15 to $30 a month depending on the calling features you need. For example, ULTATEL lets you pay only $15.95 monthly where you benefit from unlimited voice and video calls, unlimited inbound fax, and more.
These are some of the direct cost savings that can be enjoyed by companies using VoIP technology.
2. Makes working remotely easier
When it comes to indirect cost savings, a VoIP phone service allows companies from around the world to hire freelancers, contractors, and full-time employees minus the usual office set-up.
Whereas physical offices involve the use of analog telephones and traditional fax machines, VoIP systems allow remote workers to come face to face anytime, regardless of location. This also gives team members the flexibility to communicate outside office hours in case they need to catch up on work.
3. Helps you avoid missed calls
Lost and unanswered calls mean missed opportunities to attract potential customers, solve their problems, and encourage repeat business.
VoIP helps eliminate this problem through an automated attendant system (commonly called "auto attendant") — it's a feature that connects callers to the right department without the need for a human receptionist.
Furthermore, VoIP toll-free and vanity numbers are easy to remember and they enable callers to reach your business for free. As an added benefit, they enhance your professional image and credibility.
4. Maintains communication regardless of location
Business people who travel frequently may find VoIP highly attractive for their communication needs. Think about it: Relying on a traditional phone service can make you unavailable for hours or days when you're not at the office.
Since VoIP simply requires stable internet connection and a virtual phone number, you're not limited to any physical location. Additionally, you may use your own smartphone or laptop for flexibility.
5. Supports businesses of any size
If you're looking for basic features to support your small business, VoIP can provide you with these, such as team messaging, auto attendant, video meetings, online faxing, and a toll-free number. (Although keep in mind that VoIP service providers may vary in their features.)
As you scale up your business, you'll have the freedom to use more advanced features like call transferring, call recording, and multi-project conference reporting, which ULTATEL provides.
6. Excellent call quality
VoIP can be as good as traditional landlines when it comes to call quality. Nowadays, providers include HD voice and HD video calls on their list of features, so it will be as if you're conversing with someone in the same room.
However, keep in mind that external factors may also affect your VoIP calls. A few examples include cheap headphones which produce bad sound quality and an unstable internet connection.
7. Ensures security
With all the benefits of VoIP, you might be wondering if VoIP is secure. After all, it can involve relaying sensitive information and making purchases, which present risks. The right service provider helps your business avoid security breaches using encrypted connection and thorough testing of VoIP networks.
When choosing one, it helps to check a VoIP service provider's accreditations (depending on the industry you're in). For example, healthcare providers should look at HIPAA compliance (Health Insurance Portability and Accountability Act) to protect patient privacy.
8. Saves money on international and long-distance calls
The cost of calling can quickly add up when using landline phone systems, which is why VoIP always wins. Most of the time, you'll be able to call anyone for free or enjoy very cheap calls using VoIP.
According to the FCC (Federal Communications Commission), basic rates for international calls using landlines range from $1.55 to $3.50 per minute. In contrast, international calls using VoIP providers like ULTATEL will cost you only less than $1 per minute. You can check out our full international calling rates. 
9. Multiple features that boost productivity
Traditional landlines put constraints on your business, such as not being able to do video conferencing and the need to manually pull up customer information during customer service calls.
Companies that switch to VoIP are discovering various features that spike team coordination and productivity. As your team and customer base grow, you can take advantage of VoIP phone system upgrades. One example is the smart IVR that's capable of voice recognition, detecting existing customers, and routing them to the correct agent.
10. Improves customer relationships
Research shows that customer service quality is multi-dimensional and it includes things like credibility, accessibility, and communication — which VoIP can help you with. 
For example, VoIP allows your business to provide customer support from around the world. With a 24/7 customer service availability, all calls are answered.
Moreover, CRM integrations (VoIP plus a CRM software) can take customer satisfaction to the next level since agents are able to view and act on real-time customer data, such as their purchases, website visits, and previous support tickets.
Disadvantages of VoIP
While VoIP does a lot for your business, it has some limitations that may affect your experience when making the transition from your old system, as well as your performance. Below are three potential drawbacks and what you can do to avoid them.
Switching to a VoIP solution requires careful consideration
Not suitable for those with poor internet connection
Possible security breaches if you're not prepared
1. Switching to a VoIP solution requires careful consideration
Just because you've learned about VoIP's benefits, doesn't mean you should switch right away. Aside from having quality internet connection (which is a must), you need to consider other factors like:
Your session initiation protocol or SIP provider
Whether your phone system is compatible with VoIP
Training your employees or team in using the new system
Basic and advanced features you might need
The good news is that these challenges are easily solved and most VoIP providers offer resources to help you adapt.
2. Not suitable for those with poor internet connection
Since VoIP is dependent on an internet connection, bad connectivity leads to issues like latency (delays) and jitters. To avoid these problems, consider getting fiber connection if you're running a business from home or high-speed mobile data if you're on-the-go.
Also, note that maintaining quality calls becomes more important the bigger your business gets, which means more users and more complex tasks. In other words, upgrade your internet according to your business size and needs.
3. Possible security breaches if you're not prepared
Last but not least is security. Earlier in this article, we mentioned security as a VoIP advantage. However, this doesn't make it completely immune from threats. As a VoIP user, make sure you're aware of common risks, such as DDoS attacks and vishing (VoIP phishing).
Fortunately, you can take additional steps to improve security. A few of these include choosing a reliable service provider, meeting HIPAA requirements, properly training your customer service agents, and implementing a strong password policy.
Comparing the Benefits of VoIP to its Disadvantages
Here's a comparison table of the advantages and disadvantages of VoIP phone systems:
VoIP Advantages
VoIP Disadvantages

Affordable since VoIP can be completely wireless, has low monthly rates, and supports remote working
Freedom to add more features and integrate with other apps as your business grows
High quality calls as long as there's good internet connection

Businesses need to consider various factors before switching over to VoIP, such as phone system compatibility, employee training, etc.
Not completely immune to cyberthreats, so you need to anticipate and be prepared for them
Bad internet connection causes call quality issues
Summary
Considering all the pros and cons of VoIP, we know that VoIP outperforms traditional landlines in many aspects — cost-effectiveness, portability, improving customer experience, and more.
VoIP can make the difference between reaching your business goals and staying where you are due to the limitations of conventional telephones. Before implementing a VoIP solution, make sure you have all the facts, especially the potential risks involved, so that you're fully equipped and able to maximize this technology.
With 20+ years of experience in software development, telecom and management, Amr prides himself on helping businesses of all sizes become more efficient to compete in today's corporate world. He recognized the value of great customer service and tapped into his entrepreneurial spirit to found his own telecom company, ULTATEL.