Customer Service Automation: Pros, Cons, and Best Practices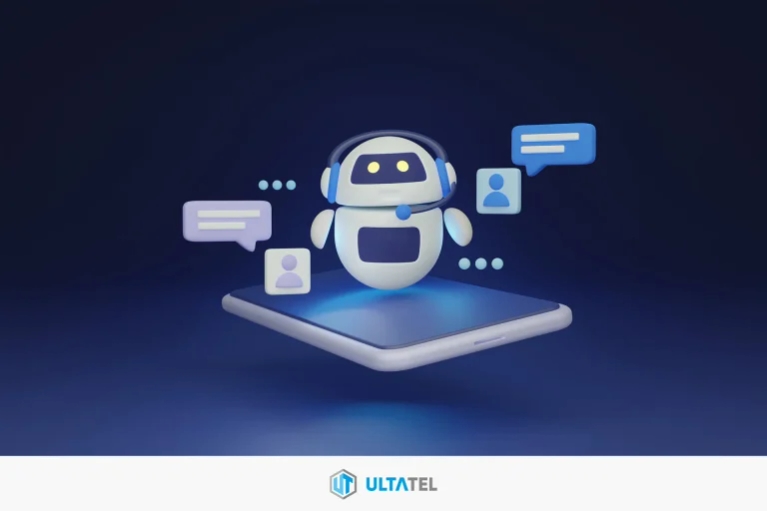 Are you still deciding to hop on the customer service automation wagon? Are your customer representative agents overwhelmed and can't even finish their daily tasks because of the customer service loads? Then you've come to the right place. We will take you into deep detail on whether customer service automation is suitable for your business.
What is Customer Service Automation?
Customer Service Automation is the customer support that decreases human involvement in solving customer questions or inquiries. This system lets queries get resolved with Chatbots, Automated workflows, IVR, Emails, and FAQs. Having any of these communication features can help your overall customer experience and benefit your business by reducing the number of inquiries needed to get the correct answer. In addition to gathering all your information using CRM, your entire team will continuously be updated about customers and inquiries. It also has predetermined responses programmed into your system, so there are embedded questions and answers for customers.
How Does Automation Help Customer Service?
Customer Service Automation allows your business to have a 24/7 support system. So, if a customer calls, they are automatically directed to the main menu, where they will choose their inquiry and get the answers they need without being rerouted to a human. However, if the inquiry menu does not help a customer, it will redirect them to a human to explain your inquiry further. With this new generation, customers like teenagers or young adults don't want to speak with a live human; they want chats and common FAQs. But, with Automated Customer Service, it can offer Chatbots and FAQs, which keeps you up-to-date and modern.
Benefits of Automated Customer Service
Automated Customer Service has many benefits; it's not only cost savings like every other system. Take a look;
1. Reduces Customer Costs
The best benefit of this service is that you no longer have to pay salaries, yearly taxes, hiring, training, and office space for human customer service representatives. Now you can reduce your annual budget by nearly 20%-40%, making it a much more affordable choice to install an Automated Customer Service system.
2. Accommodates the preferences of modern customers
Nowadays, Millennials are more comfortable solving problems through Chatbots, virtual assistants, Webchat, Social media messaging, or FAQs rather than speaking with a live representative. If your business offers Automated Customer Service options, you will retain that a big chunk of clientele that is popular in this century.
3. Minimizes Human Errors
As a company, your job is to answer customers' inquiries efficiently in minutes, not hours. Sometimes, humans make mistakes; it's okay, but not in the customer service section. Automation is one of the easiest ways to improve service speed and reduce human errors. Live agents try their best to solve their customers' problems, but sometimes it takes too long or differs from the exact solution that a customer is asking for. Automated customer service tools can give your customers many options to help solve their problems.
4. 24/7 Customer Support
While humans can only work during working hours, Automated Customer Service works 24/7 without any hassles. For example, imagine your customer had a problem at 2 A.M. your representatives are off duty; Chatbots are always online for assistance. This option of always being online to help your customers will increase your customer support rank, sales, and customer satisfaction.
5. Improves speed to value
Automated Customer Service shortens response times and helps you build long and reliable customer relationships. Think of it this way; your human representatives always have time goals. The shorter the call, the faster the customer's problems will be solved. So, instead of having your representatives use their time answering calls, this tool can help resolve their issues right away. No diverting calls to different departments because they don't know how to help the customer, and no long phone calls and upset customers. This will result in more satisfied customers and fewer complaints. Also, this tool will tally up all your customer's inquiries for you; there is no need to do it manually.
Drawbacks of Automated Customer Service
We've all been there; lousy customer service is the most annoying thing. However, with every system or tool, there will be some drawbacks. Let us take you down the risks train.
1. Lagging human touch
Not having human interaction during a problem your customers want to resolve can trigger some negative aspects. Sometimes, people like speaking to a live representative. AI tends to lack feelings and human-like traits, as much as programmers attempt to make them livelier. For example, Chatbots don't have the empathy to recognize human-specific problems/solutions. Also, sometimes Chatbots can't find a solution that a customer is looking for, so they keep trying, which wastes the customer's time and patience. The result could negatively affect your company's customer service ratings and reviews.
2. Increases reliance on technology
Since there's an increase in automated customer service tools, companies are eliminating human interactions. If companies rely on AI, it may decrease employee-customer relationships. If you use these AI tools, make them personalized and more human-like so you don't result in bad customer service problems.
3. Requires many resources to launch and maintain AI tools
Modern AI solutions aren't as robot-like as you might think. Customer service must invest in and maintain the tool's design and upkeep. There is a questionnaire your company considers at first, questions, and possible answers. That is why the Chatbots that you choose should have high capabilities to suggest your customer's inquiries. For example, your company gets a call from a customer, and the first thing they hear is a robot; sometimes, that frustrates the customer because they want a human to explain their problem to them. So, think of it this way, there's bad and good.
4. Your company needs to make sure the tool is consistent all over the world
Automatic Customer Service is a very reliant service. Your customer service needs to have a brand identity. Consistent brand history and customer experience are essential for the Omnichannel to work efficiently. Your company might get a customer service call on the other side of the world; you must also have the capabilities to help them understand their language. Sometimes, not everyone can speak English.
Examples of Automated Customer Service
The first step to take on this journey is to decide which customer service points need to be automated for your company. Below you will find some examples to help guide you to your answers.
1. Self-Service:
Giving your customers all the means to solve their inquiries is an excellent step to modernization. This well-organized service provides a "help yourself" option where customer representatives create real-time information to help customers make the right decisions. Using a FAQs page on their website or app to have their customers find their answers at their own pace.
2. Live Chatbots and Virtual Support
Live Chatbots and virtual assistants help your brand's niche and keep you updated when customers make incoming calls to your company. It's an easy, fast, and super helpful tool, and a human's personal touch is still there for customers.
They provide; 24/7 support, wherever you are, whatever time zone, customer service is available for you 24/7 all year round.
3. Data Reporting
This feature will benefit you in multiple ways, giving you constant data records of your AI tool. For example, it'll send you regular data reports on track metrics, total visitors, search terms, ratings, and much more, depending on what needs to be analyzed. This helps your company identify what is working and what is not and how you can improve your customer service.
4. Customer Service Redirecting
Sometimes, AI tools don't give 100% customer satisfaction because some people like to speak to a live agent, or the AI customer service isn't solving their inquiries the way the customer wants. Ensure you have a "contact a live customer representative" option on your website or app for these situations.
Best Practices for Customer Service Automation
Installing call center software is the best practice for your customer service to get a big boost. AI gives customer experience a new meaning; its messaging platforms and tools will benefit your customer experience usually by 100%.
Take a look at some tips that your company can practice:
1. Live chat agents
Chatbots are set up expressly to your company's customers' wants and needs. How do you decide what is best for your company's AI tool? The first step is to add a live chat option to your website or app to monitor your customer's conversations. The second step is to study how the AI tool responds to your customers, then implement what you see fit. It is a risk your company must take to implement live chat software, but that is why you should have a backup. Set up a live chat option if your customer wants to speak to a human rather than a bot.
2. Notification updates
Customers appreciate when the first step from your company is to take care of them immediately. Providing them with updates and notifications keeps them loyal to your company's service. Many businesses neglect to realize that the customers calling are humans and humans have feelings. To keep them happy, try to meet their every need that you can offer. Please give them the option to always be in contact with them, never make them feel like you cannot help them with their problems, and actively work on fixing them and providing them with updates.
3. Encourage self-service for customers
The great idea is to increase your knowledge glossary for your customers. How about creating creative content to help your customers become interested in what you have to say? Create videos explaining to your customers how to use one of your tools or how to select the proper option inquiry on your AI customer service; the ideas are endless. 68% of people prefer watching videos to solve an issue rather than speaking to a support agent, whether live or bot. Always search for new and innovative ways to catch your audience's attention to stay current.
4. Template responses for your team
Sometimes it can get hectic, and customer requests accumulate. If you can create customized answering or solution templates for your AI, things can get solved quicker. Customer service representatives can gather information about what customers mostly ask about and create an FAQ. Support agents can then use those customized templates when they reply to customers. Developing these templates will make a more personalized response rather than having it be robot-like.
5. Integrate Customer Service Automation into your CRM
Usually, businesses use Customer Service Automation for inbound calls. How about integrating it into your CRM system? How, you ask? By checking in with our customers from time to time and by sending them emails, arranging an outbound phone call to update them with new features, and asking why they've stayed away for so long. Stay in touch with your customers because that will help you build a reliable relationship with them and ensure them that your company cares.
Best Customer Service Automation Softwares
If you are still determining which software you would like to install in your company or are wondering if you know them all, here are some details so you can choose the right one for your business.
A list of Softwares:
1. Help Scout
Help Scout is a customer support platform for growing teams to deliver the best customer service. It costs around $20 per month. The benefits of signing up are access to an entire suite of tools — shared inbox, a library of facts, and live chat software.
2. HelpDocs
HelpDocs is the best customer support software for standalone knowledge bases. It's a great choice if you are looking to invest in a standalone piece of knowledge base software. Their software is easy to use, has robust feature sets, and is cost-effective. The starting cost is $49 per month.
3. Olark
Olark is a software that offers team management, robust automation, robot analytics, and affordable prices. It's the best for smaller teams. Also, if you would like to customize your plan, you can. No need to use all the features; if you'd like to add more, you can. The cost starts at $29/per seat per month.
4. Aircall
Aircall is a software that offers many different plans to fit all teams, no matter their size. All of their projects include phone support essentials like call queuing, setting custom business hours, and IVR. These essentials can benefit your team in quickly getting phone support up and running.
Price: Starting at $30 per user per month.
5. Zendesk
Zendesk is a system used to manage customer conversations for large teams. You can work your emails and social media conversations with any of their plans. If you want to add your phone, you must choose their costlier plans.
Price: Starting at $19/agent per month.
Customer Service Automation FAQs
What can be automated in customer service?
Many features can be automated, like Chatbots for live conversations, automated workflows, Interactive Voice Response for the phone menu options, Email automation (automated email response), Self-service help centers for more inquiries, and FAQs so your customers can find their answers if they choose to.
How do you automate customer service jobs?
To automate customer service jobs, you must include an escape hatch which means a way out for customers to use, accumulate feedback so you can find your customer's problems that you've never dealt with before, and audit everything regularly.
How can automation improve customer satisfaction?
Automated customer satisfaction tools can help your customer's experience. It'll benefit them and you with faster solutions to their problems. It will support strategic interaction routing, guide your customers to what they need, and help your robot guide answer straightforward inquiries to your customers. All these features will keep your customer happy and loyal, which is necessary for your industry.
How to know if my business needs automated customer service?
Automated customer service is needed if your business gets more than two calls a day. It decreases the time that your agents spend on each incoming customer inquiry. This frees time and resources on manual tasks your customer representatives can work on.
Summary
Customer service automation is created to empower your company's customer service. It will 100% provide your customers with an excellent experience and have them returning for more. How do you decide if you need this service? Ask yourself, does your company have a high volume of customer calls? If yes, then consider a Chatbot. Chatbots will respond to the majority of your customer's inquiries. Setting up a Chatbot will benefit your team by giving them free time to work on more stressful problems. ULTATEL offers the best CRM integrations for your company.
Konstantine is the Head of Digital Marketing at ULTATEL. With a decade of experience in leading marketing strategy, he understands the importance of consistently adapting to the ever-changing digital landscape.