How to Set Up a Small Business Phone System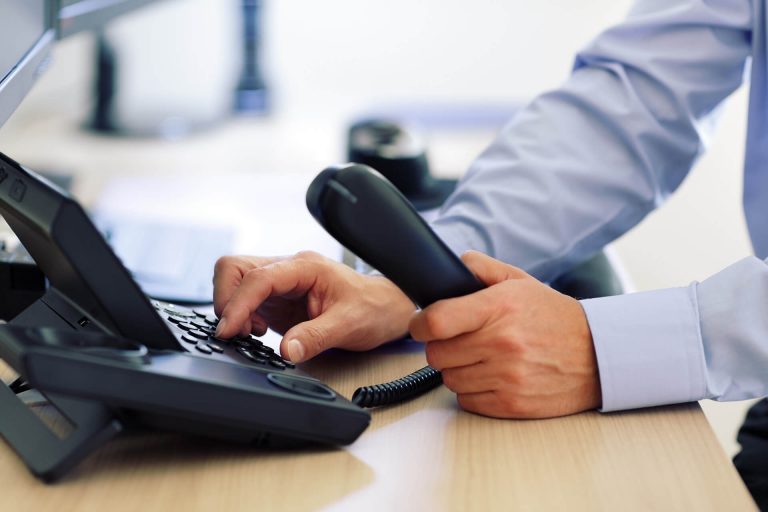 Communication is vital to business growth. Business owners need to set up phone solutions that make processes efficient, streamline communications between customers and agents while keeping the business ahead of the competition.
In this guide, we will consider how to set up a small business phone system for your communications solution.
What is a Small Business Phone System?
A small business phone system combines multiple phone lines and support features such as call handling, call transfers, conference calling, voicemail, etc. The different small business phone systems include KSU-less phone systems, KSU systems, Traditional PBX, Self-hosted VoIP, and Cloud PBX phone systems.
KSU-less phone systems offer advanced features without the additional cost of a central control box (or KSU). They are ideal for small businesses with less than ten employees. KSU Systems offer multiple phone lines supported by a key system unit (KSU). They provide flexibility for expansion and are great for small to medium businesses.
Traditional PBX works over business phone lines and uses on-premises PBX servers. It has expensive initial costs and continuous maintenance charges. Self-hosted VoIP connects calls over the internet, but the server is on-site. It only works with SIP phones and is similar to a traditional PBX but less expensive.
Cloud-based VoIP systems use mobile and web apps to make and take incoming calls over the internet. They are the most flexible and cost-effective option for small businesses.
How to Set Up a Small Business Phone System in 5 Steps
Cloud VoIP phone providers offer straightforward business phone system installation so that you can be up and running in just a few simple steps. All you need is a reliable, high-speed internet connection.
Below are five steps to set up a small business phone system:
Step 1: Activate your service
You first need to activate your VoIP service with your service provider. After activation, you get a welcome email and a link to the setup wizard. To access the best call quality possible, use a QoS-enabled router.
A phone system set up, you will be able to create your account password; select your unique security question and answer; enter your company information; set service address, time zones, and users; add call groups; assign members and extensions; set up virtual-receptionist; customize call handling rules and load custom greetings.
Step 2: Set up IP Desk phones
Attach your handset to the base of your IP phone using the cord provided. Plug one end of your ethernet cable into your phone's WAN port and the other end into your router or internet jack. If you don't have a router or internet jack, you can connect the LAN port on your IP phone directly to your PC.
Step 3: Transfer your existing toll-free number
After purchasing your business phone, you'll be given temporary business phone numbers. If you have an existing toll-free phone number, you can port this to your new business phone.
How to transfer your existing toll-free number: Login to your account; Go to My Settings; Click on Transfer an Existing Number, and Complete the online wizard for each new number you wish to transfer.
Step 4: Customize your phone system
As an admin, you can customize your business phone system settings and assign users and extensions according to your specifications. Each user can also change their voicemail greetings, hold music and adjust call handling rules for individual extensions.
Step 5: Add international numbers as required
If you need to add international numbers to make outbound and inbound calls to your business phone, you can buy a license for your international staff. Then, choose a preferred number and activation key. You can also purchase international numbers as a caller ID from several countries.
Final Thoughts
If you're looking for a cost-efficient small business phone system installation that offers unparalleled scalability, then a small business VoIP phone system works best for you. However, you can still decide which options to set up based on your business needs, budget, and staff size.
As a leading expert in digital marketing, integrated campaigns and marketing strategies, Tim has led award-winning marketing communications teams for several communications companies. In addition to serving as the Director of Marketing for ULTATEL, he is also the Kansas City president for the American Marketing Association.