Microsoft Teams vs. Slack: Which Collaboration Tool is Better?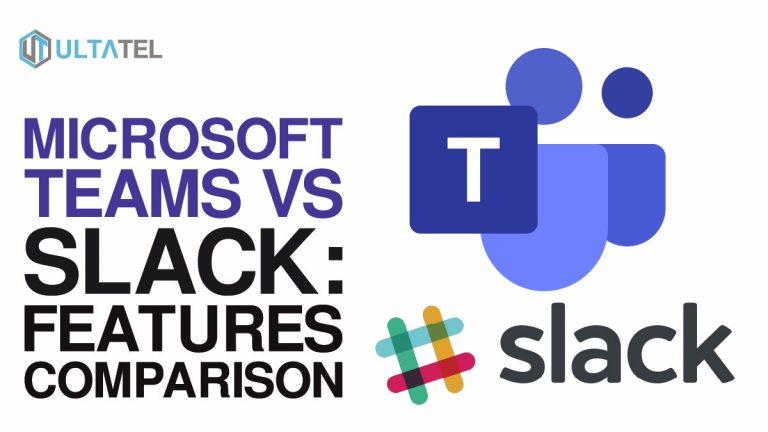 Microsoft Teams and Slack have much in common, so choosing between the two might feel like a coin toss. Still, both have pros and cons, and your choice will depend on how you prefer to communicate with your team.
This guide is for you if you're caught in the Slack vs. Teams battle. Learn how each team chat app functions and how they stack up against one another regarding overall features, plans, user experiences, and more.
What's the Difference Between Microsoft Teams and Slack?
The main difference between Microsoft Teams and Slack is its usage. Because Slack is comparatively easier to sign up for and use, it is better suited for smaller teams, whereas Microsoft Teams is more compatible with larger enterprises and organizations.
Another stark difference between the two is integration capabilities. While Microsoft Teams seamlessly integrates with Office 365 applications, Slack boasts a whopping 2,000+ integrations with third-party applications.
Microsoft Teams vs. Slack Which Collaboration App is Better?
As the two clear market leaders in the team collaboration industry, Microsoft Teams and Slack can pose a challenging choice for business managers. By comparing the two on every level, you can better understand which collaboration tool can satisfy your needs.
Features
Microsoft Teams offers robust features deeply integrated with the Microsoft 365 suite. Users can conduct video meetings, share files, co-author documents in real time, and manage tasks within the platform. Teams also provides access to Microsoft's productivity apps like Word, Excel, and PowerPoint, streamlining workflows for those already entrenched in the Microsoft ecosystem.
On the other hand, Slack boasts a wide range of third-party integrations, allowing users to customize their workspace with over 2,400 apps. Its features include channels for focused discussions, direct messaging, voice and video calls, file sharing, and integrations with popular tools like Google Drive and Trello.
Here's a more in-depth table comparison of Teams and Slack features.
| Features | Microsoft Teams | Slack |
| --- | --- | --- |
| | | |
| Channels | Yes | Yes |
| Private Messages | Yes | Yes |
| Number of Users | Up to 500,000 (free plan) | Unlimited |
| Unlimited Messages | Yes | Yes |
| Comp. Message Search | Yes | Up to 10,000 (free plan) |
| File Sharing | Yes | Yes |
| Guest Access | 5 per account (paid plan) | Unlimited (paid plan) |
| Screen Sharing | Yes | Yes (paid plan) |
| Video and Audio Calling | Unlimited | Unlimited |
| Video Conferencing | Up to 250 users (paid plan) | Up to 15 users (paid plan) |
| Web, Desktop, and Mobile | Yes | Yes |
| Shortcuts and Productivity | 40+ shortcuts (desktop) | 50+ shortcuts (web, desktop) |
| Bots and Workflow | Who Bot (paid), 3rd party | SlackBot |
| Integrations | 472 apps | Up to 10 (free), 2,000+ (paid) |
Plans and Pricing
Microsoft Teams and Slack offer free plans with basic features, making them accessible to small teams and individual users.
Microsoft Teams' paid plans come with Microsoft 365 subscriptions, providing access to additional features like enhanced security and increased storage. Plans include the following:
Free
Business Basic: $5 per user/month
Business Standard: $12.50 per user/month
Office 365 E3: $20 per user/month
Slack's paid plans are more straightforward, offering tiered pricing based on organization size and additional features like unlimited message history and advanced administration controls. Plans include the following:
Free
Standard: $6.67/mo
Plus: $12.50/mo
Enterprise Grid: Pricing upon request
If your company is already paying for the Microsoft Office 365 suite, it may make more financial sense to invest in Microsoft Teams. While Slack can accommodate more users per company, Microsoft Teams provides better overall value for larger teams.
In addition, you can access more features on a free Teams plan than you would on Slack.
User Experience
Microsoft Teams provides a user-friendly interface with a familiar Microsoft design language. Users accustomed to Microsoft products will find the navigation intuitive. The platform emphasizes teamwork and collaboration, making it easy for users to access shared files, hold meetings, and collaborate seamlessly.
Slack has a clean and modern interface. Its channel-based organization fosters focused discussions, while direct messages enable private communication between team members. Slack's user experience is lauded for its simplicity and quick onboarding process.
However, Microsoft Teams' interface is slightly more streamlined, as users divide channels into teams, not channels based on topics. In addition, Slack enables any user to create channels, which can potentially lead to interface overload.
Integrations
Slack is renowned for its extensive integration ecosystem, allowing teams to connect and centralize various third-party apps and services. This flexibility enables users to customize their workspace and automate workflows effortlessly.
While Microsoft Teams started with a narrower range of integrations, it has expanded significantly over time. Its strength lies in tight integrations with other Microsoft services, but it also supports integrations with popular third-party apps.
In this regard, Slack may seem like the obvious winner, but that isn't always the case. If your team already functions on a Microsoft ecosystem and doesn't require too many integrations, using Teams makes sense. However, smaller groups requiring flexibility, mobility, and scalability might prefer Slack.
Ease of Use
Both platforms excel in offering user-friendly experiences, but preferences may depend on your team's familiarity with the respective ecosystems.
Microsoft Teams provides a seamless experience for users already entrenched in Microsoft tools.
Slack's intuitive interface makes it accessible to teams of all backgrounds, and its customization options enhance overall usability. Slack also has superior notification customization, allowing new users to overcome learning curves as quickly as possible.
Calls and Messaging
Microsoft Teams offers reliable video conferencing and calling capabilities, empowering teams to collaborate face-to-face, regardless of location. It supports large meetings, screen sharing, and interactive collaboration features.
Slack's video and voice calling features are available across all plans, with the option to integrate with third-party video conferencing tools for larger meetings. Its messaging system is robust; users can easily share files, images, and documents within conversations.
Overall, Slack isn't as invested in supporting calls, as you'll only get one-on-one capabilities with a free plan. Plus, moving onto a paid plan doesn't help much—group calls can only support up to 15 people.
By comparison, Teams can host huddles of up to 300 people on a paid plan—perfect for workshops and conferences.
Storage
Microsoft Teams integrates seamlessly with OneDrive and SharePoint, providing generous file storage and access to collaborative document editing. The storage capacity depends on the Microsoft 365 subscription plan.
Slack integrates with various cloud storage providers, enabling users to access and share files from platforms like Google Drive and Dropbox. Its free plan offers limited file storage, while paid plans provide more extensive storage options.
While both programs offer up to 1TB of storage, this is only available to Slack users on its Enterprise tier. By comparison, Microsoft Teams users can easily access this much storage with its Basic Package.
Security
Both programs offer industry-standard encryption for data transmission and storage. Microsoft Teams leverages the security features of Microsoft 365, including compliance capabilities, data loss prevention, and identity management. Teams is Microsoft Certified for Security, Compliance, and Identity Fundamentals (Exam SC-900).
Slack provides enterprise-grade security, including data encryption, two-factor authentication, and user access and permissions management. Its Enterprise Grid plan also offers larger organizations advanced security and compliance features. Its compliance certifications include the following:
ISO/IEC 27001
ISO/IEC 27017
ISO/IEC 27018
SOC 2
SOC 3
EU/US Privacy Shield
Swiss/US Privacy Shield
CSA
While Slack may appear better-equipped, Teams offers better access control and information management, as you'll see in its information architecture.
Support
Microsoft Teams benefits from Microsoft's extensive support infrastructure. Users can access a wealth of documentation, tutorials, and a dedicated support team to address issues or concerns.
Slack also offers comprehensive support resources, including a help center, community forums, and email support. Paid plans come with additional premium support options and faster response times.
Both platforms provide 24/7 bot support, and both help bots function almost identically—just plug in a keyword or query in the T-Bot channel on Teams or Help Centre on Slack, and you'll get your answer immediately.
Microsoft Teams vs. Slack The Verdict
The choice between Microsoft Teams and Slack depends on an organization's existing tech stack, collaboration needs, and preferences. Some teams might find Microsoft Teams more suitable due to its integration with Microsoft's suite of products, while others might prefer Slack's flexibility and extensive third-party integrations.
Microsoft Teams is a sensible and natural choice if you run a large enterprise on an Office 365 ecosystem. Alternatively, Slack may be better if you require many integrations and further customization.
Whatever the case, having a reliable and secure cloud phone system is part of any successful business infrastructure, whether it functions on Teams or Slack. You can work and contact your team from anywhere with ULTATEL's robust cloud phone systems.
Konstantine is the Head of Digital Marketing at ULTATEL. With a decade of experience in leading marketing strategy, he understands the importance of consistently adapting to the ever-changing digital landscape.