Celebrating ULTATEL's Remarkable Inclusion in the 2023 Inc. 5000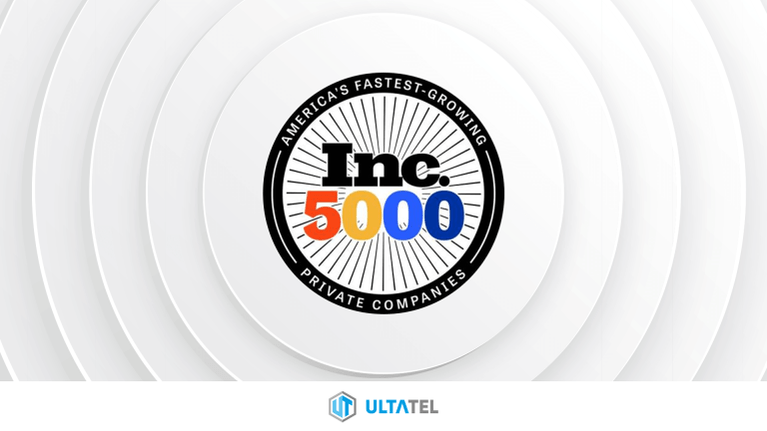 Reading Time:
< 1
minute
Greetings to our dedicated community, partners, and all tech enthusiasts out there!
We are absolutely elated to announce that ULTATEL has officially made it to the esteemed 2023 Inc. 5000 list! This recognition doesn't just represent a number or a rank but is a testament to our unwavering commitment to revolutionizing business communication.
In an age where communication defines the pace of progress, our mission at ULTATEL has always been clear: to leverage the power of human connection. By creating a simple yet robust communication platform, we've enabled businesses to bring all their conversations – voice, text, video, email, fax, or even meetings, into a single accessible interface. Whether you're on a desktop in the office or on a mobile device on the move, ULTATEL ensures seamless communication.
Our CEO & Founder, Amr Ibrahim, often says,
"In today's fast-paced business world, meaningful human connection can get lost in the noise. Our aim at ULTATEL is to simplify the noise, making sure every message, every voice, and every video reaches its destination with clarity."
This vision has led to an astonishing 301% YoY growth for the past three consecutive years.
ULTATEL is not just about technology. It's about changing how businesses, big or small, converse and collaborate. From front desk interactions to intricate sales negotiations, call centers, and external collaborations, we have redefined the essence of unified communication.
We are deeply thankful for the trust the thousands of businesses and organizations have placed in us. Here's to many more years of innovation, connection, and growth!
Our mission is to completely revolutionize how companies conduct business by delivering the most comprehensive suite of cloud-based telephony, unified communications and contact center services. Our solution dramatically improves customer experiences, invigorates employee productivity and integrates business processes for greater revenue growth.