What is a Cloud Based Phone System?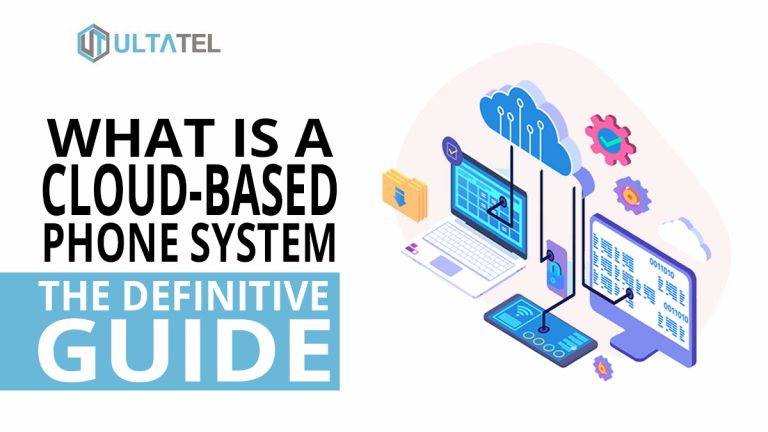 Gone are the days of bulky hardware and clunky cables.
Instead, an increasing number of businesses are switching to cloud-based phone systems, shredding operation costs in the process.
Cloud-based phone systems have completely taken the virtual business space by storm. If you're unfamiliar with them, read on to find out what they entail and what makes them so appealing.
What is a Cloud-based Phone System?
Traditional phone systems make use of tons of cables or fiber optics, to establish a connection.
On the other hand, cloud-based phone systems eliminate the need for thousands of cables and complex on-premise installations, because all communication and voice traffic takes place over the internet.
How Does a Cloud-based Phone System Work?
To get a grasp of how cloud phones work, you first have to understand traditional systems.
In a business environment, phone systems typically have a component called "PBX" which stands for Public Branch Exchange.
PBXs route calls locally within the business environment and externally with the rest of the world.
In a traditional phone system, the PBX comprises a box of cables and switches located on the business premises, whereas in a cloud system, the PBX is located on the cloud. Think of it as a virtual PBX.
As a result, cloud systems are able to establish phone calls by dissecting your voice into tiny digital packets that are sent as data over the internet to the receiver.
This technology is also referred to as VoIP (Voice over the Internet Protocol).
Best Features of Cloud-based Phones
Cloud phones are the newer and improved version of its traditional wire-based landlines. As a result, it comes with lots of helpful features that we're going to discuss below.
1. Unified Communications
A virtual phone system enables businesses to control all types of business communications, i.e. instant messaging, conference calls and video calls, from a single tool.
Thus, the workplace becomes a giant unity in which efficiency and productivity are maximized. Additionally, cloud telephony is significantly more affordable than setting up each on-premises communication method individually.
2. Artificial Intelligence
It's a well-known fact that a successful business is one that knows how to understand and satisfy its customers' needs.
Artificial Intelligence in cloud telephony is your best tool to do that.
It aims to take effective communication to a whole new level by integrating functionalities such as sentiment analysis, speech to text, data analytics, natural language processing, and more.
The purpose of AI is to capture customer intent in order to improve user experience.
3. Team Collaboration
One of the goals people seek when migrating to a cloud business phone is to create a virtual workplace that closely resembles real-life collaboration.
This is typically done to promote teamwork, especially within remote working environments.
Functionalities such as web conferences, webinars, screen sharing and screen casting allow your team members to collaborate on several projects with varying complexity levels, from pretty much anywhere around the world.
4. Data Storing and Analysis
Cloud phone systems allow businesses to leverage data storing and analysis to improve business operations and decision-making through data processing.
With this feature, large volumes of data can be stored, accessed and analyzed at a much faster rate and improved efficiency.
5. Integrations
Perhaps the most appealing part of VoIP phone systems is the idea of having all your CRM tools, your communication channels, your data and productivity software consolidated into one massive package.
This makes your business a lot easier to manage.
How to set up a Cloud-based Phone System for your Business?
With all the top-tier functionalities and cutting-edge features, you'd expect setting up a system of this caliber to be complex and perhaps even time-consuming.
On the contrary, it's actually pretty straightforward. In fact, it's a walk in the park and brings a lot of additional benefits compared to a traditional phone system.
Here's how to go about it;
Get a Cloud Business Phone Number
As the name suggests, a cloud phone number is an internet-based phone number. It's different from conventional numbers in that it doesn't require cables and other hardware components.
Your cloud communications service provider should be able to get you an internet-based number. All you have to do is decide on the cloud-based phone plan you're looking for.
It's worth noting that there are several types of cloud numbers. Here's a breakdown of the ones that are typical in a business environment;
Toll-free- Similar to traditional numbers of this nature, toll-free cloud numbers are set up in such a way that anyone who dials that particular number isn't charged a dime. Instead, the business is charged a monthly fee for all incoming and outgoing calls.
Local access numbers– This is ideal for small or medium-sized businesses that only cater to an audience within a specific geographic location.
Vanity phone numbers– A vanity phone number is a great choice if you want to take your business' branding to the next level. In a nutshell, vanity numbers are extremely personalized numbers. In fact, you could get a number that spells out your business' acronym.
ITFS– "International Toll-Free Service Numbers" are toll-free numbers that reach beyond the borders of your geographic location.
This is actually a no-brainer. A virtual phone number will allow you to make and receive calls routed by your cloud PBX. Additionally, you can also use your existing business number and simply reroute all future calls to it.
Add Your Team
Right after you've got a cloud number plan, you'll need to create an account with your cloud service provider and the credentials of that account will give you access to a system management dashboard that is accessible from several devices.
The dashboard will act as a control center for all your cloud-based phone system features and functionalities. That said, to add team members, you simply have to log onto your system management dashboard and select ''add users''.
When using a virtual phone system, all the team members of a business utilize one phone number for all business-related communications. Each member also has a unique extension connected to the business number, making it possible to contact members individually by simply calling their extensions.
Explore and Customize Your System Features
What's really impressive about virtual phone systems is how convenient they are, and this is especially useful when you have to customize your system features. You can do it from virtually anywhere; all you have to do is log on to your system management dashboard and make the necessary changes.
Cloud-based phone systems are packed with a plethora of features to pick from. That way, you can mold your entire system into a tool designed and tailored to meet your business needs.
Cloud-based Phone Systems Pros and Cons
There's not a single doubt that VoIP phones bring about a wide array of benefits.
However, despite their top-tier performance and advanced features, they also have some drawbacks.
Pros
Reduced costs – one of the most interesting parts of VoIP systems is their low-cost nature. They not only require less initial cost for installation and setting up, but they're even more affordable in terms of monthly costs.
Flexibility – the idea of having a wide range of functionalities and features all integrated in one system makes cloud-based phone systems very appealing to business owners and the general public.
Reliability – As a result of an advanced feature called 'Geography Redundancy' which duplicates data in two data servers located in different geographic locations, virtual phone systems can remain operational even if the primary server fails.
Low-maintenance– one of the most distinctive features of a cloud-based phone system is that it requires minimal hardware installations. That said, businesses save up on initial and maintenance costs.
Remote-working– businesses can integrate their CRM tools into their virtual phone system. Resultantly, they can track and improve staff productivity from anywhere and they can also manage several other team-working aspects. This allows businesses to include remote-based projects in their daily operations.
Cons
Internet-dependent – Since they're entirely based over the internet, their reliability and efficiency strongly depends on how stable your internet connection is.
Occasional latency – Latency is the delay between a client's request and a cloud phone system's response. Most of us are familiar with it when doing or watching videoconferences. This is an issue you might experience occasionally, depending on your connection.
Advanced networking equipment is a must– unfortunately, worn-out routers and cable modems won't cut it. To make the most of virtual phone systems, businesses would have to make the switch to a mostly wireless environment.
Cloud-based Phone Systems FAQs
What is cloud-based VoIP?
Firstly, VoIP stands for 'Voice Over Internet'. Cloud-based VoIP simply refers to a system in which your phone calls are transmitted over the internet instead of telephone cables.
Simply put, calls are routed by a virtual PBX located on a cloud, as opposed to a traditional hardware PBX.
What is a Cloud Number?
A cloud number is a VoIP variation of traditional numbers. It's designed for businesses that heavily rely on the internet to conduct basic daily business operations.
What is a Virtual Phone System?
Another term for a virtual phone system is cloud-based phone system. In a nutshell, it's a system designed to provide increased flexibility to business owners and also the general public, by enabling them to make and receive calls from virtually anywhere around the world, provided that they are connected to the internet.
Does VoIP Work if the Internet is Down?
Your VoIP phone system is highly dependent on internet connectivity, so if the latter fails, so does your phone system. However, there are ways to counter the issue with measures such as built-in redundancy, call continuity and the use of an alternative internet service provider.
Can I Use a Cloud Phone System with my Cellphone?
The best cloud phone system can work on smartphones, desktops, laptops, and tablets. This allows for remote work on pretty much any internet-enabled device.
Summary
Cloud-based phone systems are the ideal tool for businesses looking for increased flexibility, mobility and productivity. Furthermore, they're a great choice if you're looking to cut operation costs.
It's important that you analyze your current budget, status and goals when deciding to move to a cloud-based phone system. Consider the features you'll need to use the most and ask your provider about the different options available.
As a leading expert in digital marketing, integrated campaigns and marketing strategies, Tim has led award-winning marketing communications teams for several communications companies. In addition to serving as the Director of Marketing for ULTATEL, he is also the Kansas City president for the American Marketing Association.