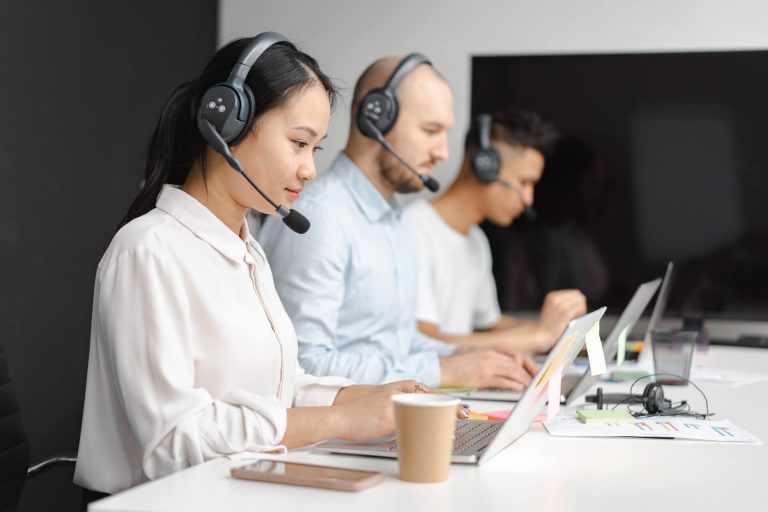 Enterprise VoIP services are enterprise-grade versions of residential and business VoIP solutions that provide large organizations with advanced features like conference calling, auto-attendants, and PBX offerings.
Enterprise VoIP transmits calls over the Internet and provides an added level of security. In this article, we will look at what an enterprise VoIP phone system is and its must-have features.
What is an Enterprise VoIP Phone System?
Enterprise VoIP Phone System refers to software designed to fit the phone needs of large organizations. It provides all public switched telephone network (PSTN) services, plus additional services.
Enterprise VoIP is a more secure and scalable version of residential VoIP and can easily integrate with other applications. With Enterprise VoIP, one can simultaneously chat, transfer files, share screens, email, and explore other advanced features—all in one interface.
Must-Have Features for Enterprise VoIP
Below are the must-have features of Enterprise VoIP you need to leverage for your large organization:
Customizable templates
Customizable templates make it easy for enterprise businesses to add and remove users. In a large company, people get hired a lot, and each new employee needs their phone line. With Enterprise VoIP, you can easily manage phone lines relieving the stressful employee onboarding process.
Enterprise VoIP gives you more control over employee access. Through the online portal, you can customize privileges. Depending on their department and position, permissions are activated or blocked. For instance, you might block international calling for some users, allow others to change their location, or listen in on phone calls.
Software integrations
Perhaps one of the most important must-have features of Enterprise VoIP is integrating with other business communication tools. An enterprise-grade hosted VoIP provider allows your company to integrate seamlessly with several applications like Salesforce, Oracle, etc.
Enterprise VoIP unifies chats, video conferencing, voicemails, email, and web presentation services in one place. This reduces the stress of shuffling multiple applications to get client information.
Dedicated VoIP circuits
Enterprise VoIP providers have dedicated VoIP circuits that they can deliver to your location to control the "Quality of Service" (QoS) and guarantee perfect call quality. For large enterprise businesses, call quality is not negotiable. Enterprise VoIP providers understand this, and this is why they have dedicated VoIP circuits that can guarantee land-line call quality 100 percent of the time.
Advanced call features
Enterprise VoIP has advanced call features like Interactive Voice Response (IVR), call forwarding, and cheap long-distance calling. Interactive Voice Response routes callers to the best help they need through an automated menu.
Another most useful advanced call feature is call forwarding. Enterprise VoIP allows you to forward calls to any number. You do not have to be on your seat to receive important calls. With the voicemail to email feature, you can automatically send your voicemails to your inbox.
In addition, Enterprise VoIP lets you avoid expensive long-distance charges with domestic calls and enjoy low rates on international calls. This is incredibly useful for multi-location businesses with remote teams.
Advance security features
Enterprise VoIP solutions offer advanced security features to secure organizations' communications. Besides data encryption, the security offerings include:
IPSec encryption
Voice over Secure IP (VoSIP)
Secure Voice over IP (SVoIP)
Secure Voice over Secure IP (SVoSIP)
Professional installation, training, and support
Enterprise VoIP providers take full responsibility for installation, training, and service. You do not need to have the expertise to install your own hosted phone system. Enterprise VoIP service providers handle the professional, on-site installation and support and training available to your organization.
Summary
Enterprise VoIP is an enterprise-grade version of residential and business VoIP solutions that provide large organizations with customizable templates, dedicated circuits, multiple software integrations, and more advanced call and security features.
As an enterprise organization, you need enterprise VoIP services. With the above features, you can be sure you're getting the enterprise-level service your organization truly needs.
As a leading expert in digital marketing, integrated campaigns and marketing strategies, Tim has led award-winning marketing communications teams for several communications companies. In addition to serving as the Director of Marketing for ULTATEL, he is also the Kansas City president for the American Marketing Association.