How to Start a Telemarketing Call Center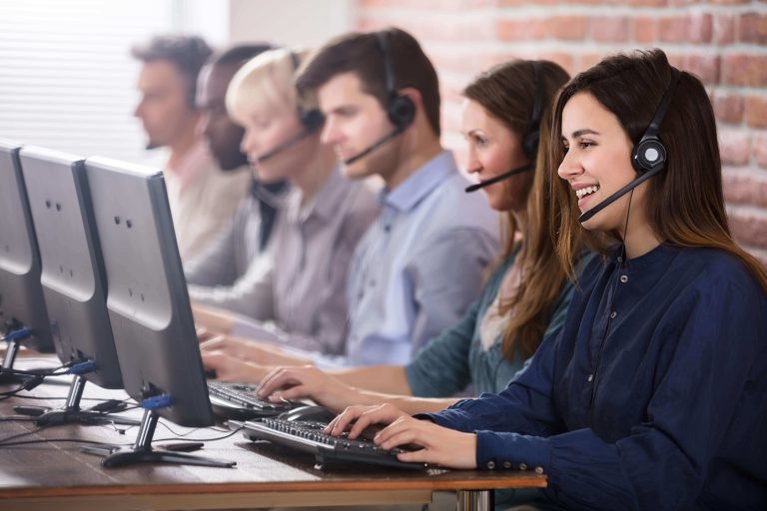 Did you know that, despite all the other communication channels available, 92% of customer interactions with businesses take place over the phone? Interestingly, 82% of buyers accept meetings when salespeople reach out to them. This means that it might be worth your while to start a telemarketing call center for your business.
It will help you promote your brand and products and could also help you improve your customer service. The result is that you'll be able to generate more revenue. But how do you start one and how can it help you to increase sales? Let's look at these questions a bit closer.
What is Telemarketing?
At its core, telemarketing is a certain type of direct marketing that relies on your sales team communicating with potential customers and leads over the phone to sell or market your products. It does, however, fulfill other functions as well. These include conducting customer surveys, collecting customer information, after-sales service, and market research.
Types of Telemarketing
There are two types of telemarketing. Depending on your specific needs and requirements, you could choose one or the other, or a combination of the two.
Inbound Telemarketing
Inbound telemarketing focuses on customers contacting your business via a dedicated line or number. These customers will typically contact your business to place orders, confirm payment details, or find out more about your products or services. To be effective, inbound telemarketing relies on inbound marketing campaigns that persuade prospective customers to call your business.
Outbound Telemarketing
In contrast, outbound telemarketing focuses on your business contacting customers to promote your products or services. Here, it's important to make the distinction between hot and cold customer bases.
With cold customer bases, your agents contact prospective customers that have never shown an interest in your product or services. Conversely, hot bases are those customers that have shown some interest in your products or services before.
How to Start a Telemarketing Call Center
Here are the steps you'll need to follow if you want to start a telemarketing call center:
Decide on the budget for your call center. The first step in starting a telemarketing call center is deciding on your budget. So, you'll need to decide how much you'll spend on your call center initiative. This, in turn, will directly impact the tools and technologies you use, how many employees you'll recruit, and the size of the call center.
Consider if your call center will be on-site or virtual. Your call center doesn't necessarily need to be on site. With technology today, you're able to implement a virtual call center. Some of the major benefits of this are that it gives you more flexibility and scalability and you'll save on hardware costs. However, if an on-site call center suits your needs and requirements better, it's certainly a good option.
Decide where the call center will fit into your business. The next step is to determine how the call center will fit into your business's structure. Here, you'll plan who the call center reports to, how its processes work, and where your agents will get the information they need to do their jobs.
Build your call center team. By this stage, you'll know how many agents you'll need and what their responsibilities will be. Based on this, you'll then be able to recruit the right talent to build your call center team.
Hire a manager. Once you've recruited your team, you should also hire a manager that can help you manage the call center and make sure that it runs efficiently. Remember, the efficiency and productivity of your call center will, to a large extent depend on who you hire to manage it. It's thus crucial that you hire a manager with some management experience and, preferably, expertise in the call center industry.
Implement your call center. With everything in place, you'll be able to finally implement your call center.
Measure and track your call center's performance. It doesn't stop with implementation, however. You should also continuously track and measure your call center's performance. When you do, you'll see in which areas it performs well and where it can improve.
How Telemarketing Call Centers Increase Sales
Now that we've seen what telemarketing call centers are and how you can start your own, let's look at some of the ways telemarketing call centers can help you increase your sales.
Telemarketing helps build brand awareness
Because telemarketing allows your agents to speak to customers personally, they can promote your products or services to these customers. In addition, this also gives agents the perfect opportunity to get feedback about your products and their opinions on your service. In this way, you'll get valuable insights into your customer base and what they expect which, in turn, allows you to improve.
Telemarketing helps drive revenue
Flowing from the above, telemarketing also helps you drive more revenue. This is because your agents can use innovative ways that are unique to every customer to upsell and cross-sell your products and services.
This personalized approach makes it more likely that the agent will close the sale which then leads to increased revenue. This is even more so with inbound call centers as customers who phone in already have an interest in your products, services, or brand.
Telemarketing helps improve customer satisfaction
As mentioned earlier, when using a telemarketing call center, you'll be able to conduct surveys, get information about customers, provide after-sales service, and more. By doing this, you'll learn more about your customers, what they like, and what their challenges and pain points are. You'll also get valuable feedback about your products or services.
With this information, you'll be able to tailor your offering to your customers' needs and expectations. As a result, you'll serve them better and increase customer service levels. And this is especially important when you consider that 90% of Americans use customer service as a factor when deciding whether or not to buy from a business.
Conclusion
If you want to increase your business's sales and generate more revenue, you should consider starting a telemarketing call center. Hopefully, with this post, we showed you the steps you'll need to follow to do this.
When you're ready to take the next step, get in touch with ULTATEL. Our Cloud Contact Center solution gives you everything you need to set up your call center, and because of our competitive pricing and the fact that you won't have any initial expenditure, you'll end up saving between 20% and 50%.
To learn more about this solution and how it can help you, request a demo today.
As a leading expert in digital marketing, integrated campaigns and marketing strategies, Tim has led award-winning marketing communications teams for several communications companies. In addition to serving as the Director of Marketing for ULTATEL, he is also the Kansas City president for the American Marketing Association.