What is SIP Trunking? The Definitive Guide to Session Initiation Protocol Trunks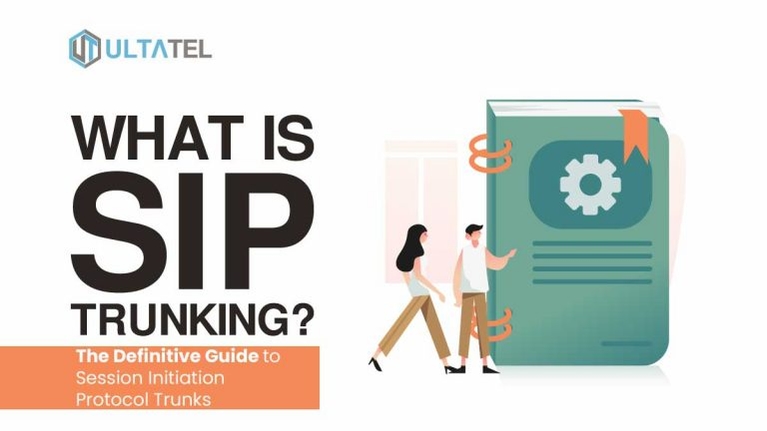 Advancements in telecommunication technologies have continued to shape the way we do business. With an increasing demand for more agile and flexible solutions, innovation gets a boost and technologies adapt to emerging needs.
---
What is SIP Trunk?
SIP trunking is a technique for transmitting voice and other unified communications services via the internet. It is compatible with IP-enabled private branch exchanges (PBX).
A SIP trunk is a digital equivalent of a phone line. It serves as virtual communication lines that enable people to make and receive phone calls from anywhere with a mobile number via the internet.
How Does SIP Trunking Work?
SIP is only one of the potential "protocols" for VoIP communications. It works similarly to how HTTP works for internet sites. The SIP serves as a communications protocol that converts voice signals into usable data.
The calls leave the company's automated switchboard and transfer across the internet using the SIP Trunking channel, where they are routed to a cell or landline phone. SIP trunks provide a connection platform for local switchboards or several links for major businesses and call centers.
The SIP Trunk replaces conventional analog links with a business's public or private internet access via a SIP provider.
How Much Does SIP Trunking Cost?
SIP trunking is a service that many businesses use to cut communication costs. Finding the right SIP trunk pricing, on the other hand, can be challenging. To conduct an accurate SIP trunk cost comparison, you must include the following;
Subscription: This involves the cost of each SIP channel or DID number.
Calling Rates: The cost of an outbound call per call or per minute.
Costs with Extras: Call logging, for example, is a feature that requires an additional charge.
Setup Costs: Setup expenses are one-time (most providers' no longer charge setup fees).
A SIP trunking cost varies from business to business, but in general, businesses can pay a setup fee of $100 to $150 and an average of $25 to $50 per month.
As previously said, calling rates are a significant factor in deciding the cost of your business's SIP trunk operation. Calling rates are calculated by both the source country and the recipient country as the rates per minute are continuously changing.
What is SIP Trunking Used For?
For most purposes, SIP trunking is used to replace the conventional PRI technology. For many years PRI technology was the industry standard in handling and processing voice and data, which is now costly to maintain.
The innovative SIP trunking system was developed to make communication more effective and seamless via the internet.
SIP Trunking Benefits
There are numerous benefits associated with using SIP Trunking for your business:
1. Unified Communication
SIP Trunking enables businesses to handle all of their communication channels from a single location. This is because SIP Trunk technology eliminates the need for two independent voice and data links.
Thus, voice, data, instant messaging, and other communication applications are integrated into a single Unified Communications framework and managed on a single platform.
2. Backup Availability
Unlike standard phone networks, which often encounter connection interruptions, SIP Trunking is a trustworthy and dependable technology.
In the event of a link breakdown, SIP Trunking providers will redirect numbers based on the customer's needs.
3. Direct Inward Dials (DIDs)
By assigning DID numbers to a business, DID service enables an outside caller to directly access an office without a receptionist or electronic attendant's support.
In IP communications, DID numbers have become essential in conjunction with SIP trunks and cloud-based phone systems.
4. Cost reduction
SIP Trunking is a cost-effective method for handling the business's centralized communications due to the lightweight structure of SIP technology and the lack of a cumbersome, physical infrastructure.
Cost-effectiveness of this technology removes middlemen between service companies and their clients, resulting in lower billing costs for businesses.
Internal calls in an organization that uses SIP Trunking are free of charge. Its technological flexibility greatly cuts implementation, setup, servicing, and upscaling costs.
5. Easy to scale up
Sip Trunking telephony systems are extremely customizable. Within the limitations of the usable bandwidth, lines may be included or deleted with no physical overhaul.
Communication systems can be quickly scaled up in periods of increased demand for networks or other add-ons and, if necessary, can be replaced at no additional cost.
6. Return on Investment (ROI)
SIP Trunking is appealing to businesses due to its low initial cost and considerable cost savings. Most of the time, the old phone infrastructure can be kept in operation without requiring significant improvements in technological equipment. Cost transparency and the absence of a big expenditure requirement result in a fast ROI.
How to Get Started With SIP Trunking
Below are the steps to get started with SIP trunking:
1. Audit existing infrastructure
First and foremost, you need to audit the current business telephony infrastructure and map out the existing phone network. Ask yourself the following questions:
Do you have a lot of phone numbers/DDIs?
What are they, and where are they directed to?
Do you have Freephone or local numbers directing to a main number or call center?
Do you have dedicated numbers for different departments or senior executives?
What happens when a phone call goes unanswered?
Do you have call waiting, speech records, touch-tone button programs, or voicemail?
What are numbers assigned to divisions or individuals? Is there a voicemail system?
What are the various employee extensions? What exactly are they, and do they have voicemail?
2. Establish goals
We suggest that you make this part of the migration process available to all your business workers. They can bring attention to the problems you are unaware of or provide ideas that can help you implement a scheme that can have and result in an even better ROI.
3. Draw up a plan
It's time to make a roadmap to have a good view of the existing telecommunications network, the pain points and the positives, and a clear understanding of where changes can be made and value-added.
Make a list of all you want to keep, including contact numbers, extensions, voicemail, electronic programs, redirects, and so on. Add on all of the benefits of migrating to SIP and search for faults and areas that can be developed further.
4. Select a SIP provider
Now that you've established the project's scale, it's time to select a SIP provider. When choosing a SIP provider, consider security, support, communication, price, and connectivity.
5. Prepare to migrate to SIP.
Determine what additional equipment or resources are needed in collaboration with your SIP provider. Increased bandwidth, PBX, IP phones, and switches may all be used.
6. Installation and Testing
At this stage, you should delegate the migration to your SIP provider, who will oversee installation and testing. You should, however, want reassurance that all is functioning as expected by running the test numbers.
Check your new telephony device against your schedule, with special attention to the protocols outlined in your Business Continuity Strategy.
7. Number porting and ISDN deactivation
When you are certain that the current SIP providers will suit your needs, it is time to port phone numbers to the new service. If the company uses location-specific phone numbers but has these calls answered at the central office, these numbers will need to be ported.
Porting entails holding the number and transferring it to the current service company – a standard practice for cell phone providers.
Porting an existing number will take up to 14 days for business phone numbers, based on the current supplier and the porting arrangement in effect. You should switch off your ISDN service until you have received assurance that these numbers have been ported.
What's the Difference Between SIP and VoIP?
VoIP is an abbreviation for Voice over Internet Protocol. In a nutshell, it is any technology that enables voice signals to pass through the internet. It is also known as broadband telephony, Internet telephony, and a variety of other words.
It makes no difference what technology or hardware and applications you use as long as it allows voice call movements over the internet; it can be referred to as VoIP.
A SIP, on the other hand, is a set of interactive rules that enables devices to communicate with one another. Consider it a language for computer hardware. Your machine and modem cannot communicate if they do not share the same language. SIP is one of the protocols that can be used to implement VoIP.
Selecting The Best SIP Trunk Provider
Below is a list of important things to consider when selecting a SIP trunk provider:
Security
Security should be the highest priority for any business transitioning to a SIP service or opting for cloud communications. When comparing vendors, keep the following phrases in mind:
TLS: Transport-Layer Security is a common cryptographic protocol that guarantees the connection's privacy and message integrity. IP-PBXs and SIPs can run behind firewalls for additional protection and, if possible, transmitted securely from within a Virtual Private Network (VPN).
STRP: Secure Real-Time Transport Protocol is less popular, but it allows for live audio stream encryption for added stability.
Own Network
Before deciding on your SIP Trunk provider, confirm if the provider has its dedicated network or uses a rebranded service.
Several third-party providers often buy SIP Trunks from other major providers. Choosing a vendor that has complete autonomy of their service and network is crucial.
Price
Though SIP Trunking provides tremendous cost savings and is a major reason organizations migrate to SIP, don't select a provider solely on price.
Cheaper providers are unlikely to have the assistance or Service Level Agreements you need, so compare service providers and decide based on what they provide and cost-effectiveness.
Number porting
A standard SIP provider should help you retain your existing number if you are to use them as your permanent SIP provider.
Some VoIP providers need two bills from your current provider before beginning the number porting process. You will also be required to supply proof of address and identification.
Compatibility with PBX
There is a possibility that the current PBX is incompatible with SIP Trunking. A reputable SIP Channel Provider should conduct routine reliability and interoperability testing and notify you early on whether your current hardware is SIP compliant.
Support
Identify service providers that have excellent customer relations. Working with a service that provides first-rate assistance ensures that you will not be without a phone line for long if anything goes wrong.
Knowing that you can get back up and running fast, even during mission-critical or emergencies, is crucial for peace of mind and business continuity planning.
Conclusion
If you intend to work with "VoIP," you will certainly use the SIP Protocol. SIP allows for two-way and end-to-end connectivity. It is extremely simple to move your business telephony from ISDN to SIP Trunks, and with ISDN being increasingly abundant, there are good reasons to do so right now.
As with any new IT system implementation of a network, it is important that your company carefully prepares before migrating.
If you follow the steps mentioned above, the new SIP service should be operational and deliver substantial cost cuts and other business benefits very soon.
With 20+ years of experience in software development, telecom and management, Amr prides himself on helping businesses of all sizes become more efficient to compete in today's corporate world. He recognized the value of great customer service and tapped into his entrepreneurial spirit to found his own telecom company, ULTATEL.