What is Contact Center as a Service (CCaaS)?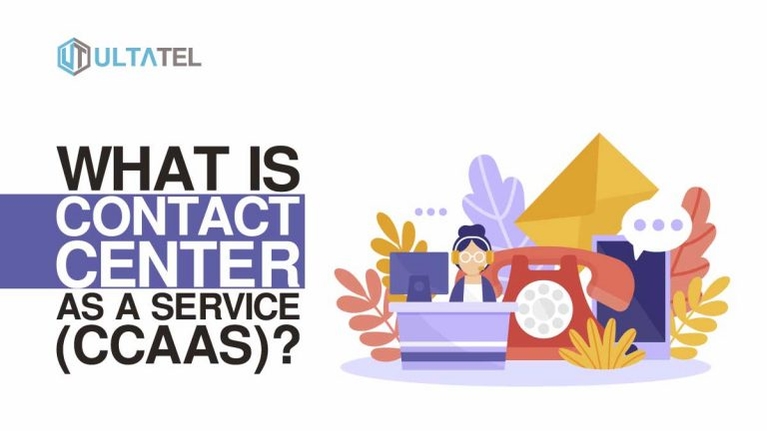 Decades ago, contact centers' software was run through in-house computers and servers that constantly needed upgrades and maintenance. Today, people want a better experience.
When your company uses a contact center as a service (CCaaS) software, you enhance customers' experience by providing your contact center representatives better communication resources. This makes their work more enjoyable and consequently converts more customers down your business funnel.
Even if you have one of the most outstanding products or services in the market, if your customer service is not high-quality, it will affect your sales.
Your contact center gives the first and most times the lasting impression of a company. It gives customers a hint of what to expect when doing business with you; therefore, you should make it the best experience possible.
What is CCaaS?
CCaaS stands for Contact Center as a Service. This cloud-based customer experience (CX) solution allows companies to use a contact center provider's software.
A CCaaS model reduces the need for internal IT support and other integration costs, and lets companies purchase only the technology they need.
CCaaS solutions are mostly cloud-based and a perfect option for contact centers, providing scalability in their business operations. Offering the option to pay for only the communication tool you need, investment costs are minimized, and customers have a superior experience.
First Wave of CCaaS
At the beginning of this century, companies started discovering vast opportunities in cloud computing. The first wave of CCaaS companies brought massive disruption to the market; and offered numerous benefits, including reduced IT support costs, business scalability, and the seamlessness of working out of the office.
In 2016, NICE, an on-site workforce provider, purchased the company inContact to build an integrated cloud-based customer experience solution. The same year, Genesys, another contact center provider, acquired Interactive Intelligence to transition to a cloud-based solution.
Second Wave of CCaaS
Undoubtedly, the disruption of the first wave of CCaaS was massive and largely successful; nonetheless, it came with some issues.
Companies launched the CCaaS software when most code bases were designed for an on-site system environment, not a cloud server. This caused significant downtimes in transitioning as the integration of the cloud environment proved tedious.
The new wave of CCaaS in contact centers gave businesses the freedom to do the following:
Manage remote teams effectively
Provide a unified customer experience by interacting through their preferred channel
Access real-time and historical call data to better analyze and make informed decisions
Take advantage of open APIs that integrate with AI, natural language, and machine learning technology
Optimize your workforce through quality management and speech analytics
Explore ready-to-use contact center integrations with CRM applications
How Does CCaaS Work?
CCaaS uses VoIP (voice over internet protocol) technology, and CCaaS vendors deliver out-of-the-box software solutions that allow call centers to customize their workflows. As more and more contact centers use cloud-based phone systems, CCaaS gives them the communication tools needed to function efficiently, even if they manage thousands of calls per day.
Another characteristic of CCaaS is that it is subscription-based. Your investment costs are lesser than traditional phone systems as you only get to pay for what you need. In addition to costs, you get more functionality.
What are the Benefits of CCaaS?
Here are the 5 key benefits of CCaaS:
1. Lower costs
CCaaS costs less for IT support, installation, maintenance, and any other recurring costs. Also, the CCaaS provider handles administrative costs for you, like licensing, updating, and troubleshooting.
2. Instant notifications on multiple devices
CCaaS instantly notifies call center agents of incoming calls, and they don't need to switch between the phone and desktop.
Forget about missed calls, because your agents can immediately respond to customers on any device.
3. Superior customer experience
There is something magical about excellent customer service. It keeps your customers loyal to you, especially with the heavy competition in the industry.
Customers expect to get help, and CCaaS gives call agents fast access to the information they need to resolve their problems quickly.
4. Easy call center setup and valuable features
CCaaS allows you to set up a call center easily. You can also customize it to fit your teams' needs, adjusting the number of call agents at will.
You also benefit from several valuable features such as interactive voice response (IVR), call routing, advance call routing, voicemail to email, etc.
5. Innovation and Software integrations
There is always room for growth. With provisions for instant feedback, the best CCaaS providers out there are continuously innovating to expand and improve functionality.
CCaaS can easily integrate data with CRM, eCommerce, helpdesk, and other business software solutions.
What's the difference between CCaaS vs. UCaaS?
Separate departments use CCaaS and UCaaS (Unified Communications as a service), but they complement each other. CCaaS provides specific communication features and allows you to pay separately for those solutions that you need. UCaaS, on the other hand, synchronizes all your communication channels in a single cloud-based communications platform.
In a nutshell, CCaaS offers specific contact-center-level features, whereas UCaaS aims to improve your internal communication tools to use them more effectively.
| CCaaS | UCaaS |
| --- | --- |
| Used to upgrade and improve your communications systems by providing contact center features | Used to improve your communication efficiency by unifying several communication channels into a single dashboard or platform |
| CCaaS is better suited to improve your customer support communications | UCaaS is normally used when you want to streamline your internal communications |
| Gives your business advanced communications reporting, call queuing and routing, AI, IVR menu, Virtual receptionist, and more related features. | Helps you and your team navigate through phone system, chat, CRM, and Social Media messaging. |
| Offers multiple integrations with additional services | It basically integrates your existing communication tools but it can also integrate additional services |
CCaaS Features
Alongside the cloud-based phone system, CCaaS provides software solutions that broaden the functionality of call centers and make call agents more efficient. Here are some of the most outstanding features:
1. Call Analytics
Call Analytics in CCaaSS is used to measure, collect, analyze and report all phone call data. With this, sales and marketing teams can conveniently evaluate it to run marketing campaigns, alongside call handling. The goal of this is to ensure that qualified calls are properly driven to the business making use of the customer-based communication solution.
2. Call Recording
The call recording feature from CCaaS allows for optimum quality management with ramifications reaching compliance certainty, liability protection and more.
The recorded conversation provides your business with intelligence to make future decisions, train new employees and measure productivity.
In sum, the extent to which recorded calls add to a business's productivity cannot be overemphasized.
3. Interactive Voice Response (IVR)
CCaaS provides an interactive menu where callers can select what kind of assistance they require through feedback.
This feedback could be given through a voice command said out loud for convenience. As more contact centers are increasingly interested in helping customers solve basic problems such as paying bills, CCaaS allows this by adding an IVR system.
4. Artificial Intelligence
CCaaS makes use of a high-ranking and intuitive AI that simplifies certain tasks for a better business outcome. The technology takes out the regular boring tasks by easily resolving issues related to the customers. This feature provides employee assistance, self-services, and completely automated actions and alerts.
5. Call Tagging
Call tagging is a feature included in CCaaS that allows you to segment calls for better future orientation.
Inbound and outbound calls are stored in the call history through labels that can be personalized for your business. Employees can simply choose from the list of calls, those that are of interest based on their specific criteria.
Final thoughts on CCaaS
Technology won't stop innovating to adapt to customer expectations. Thus, companies need to create a competitive advantage by switching to cloud-based contact centers.
The best CCaaS solution providers out there offer up-to-date, ultra-modern features, data protection, and scalability to meet your unique business needs and have a seamless integration.
As a leading expert in digital marketing, integrated campaigns and marketing strategies, Tim has led award-winning marketing communications teams for several communications companies. In addition to serving as the Director of Marketing for ULTATEL, he is also the Kansas City president for the American Marketing Association.