What is an IP Telephony (Internet Protocol Telephony)?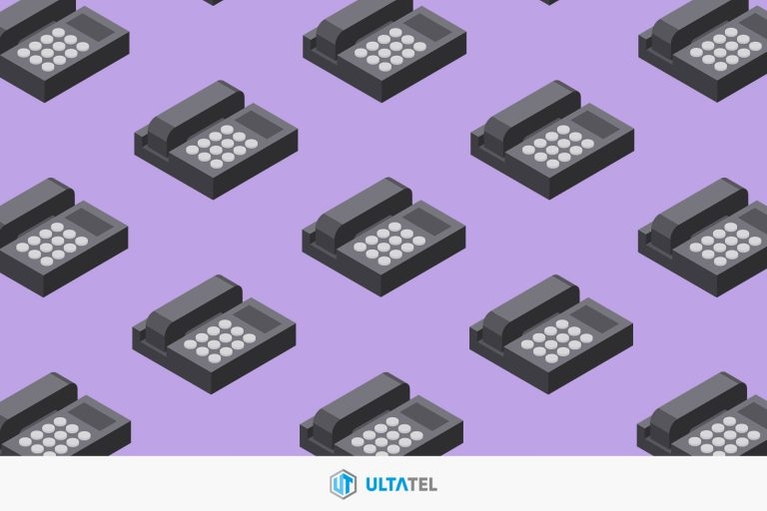 Telecommunications technologies are rising fast, and one of the critical evolutions is IP telephony. With Integrated Services Digital Network (ISDN) lines expiring in 2025, it's time to explore IP Telephony, what it is, and how it could blend your business smoothly into this digital age.
This article gives a complete breakdown of IP telephony.
What is an IP Telephony?
IP Telephony (Internet Protocol Telephony) refers to any phone system that exchanges phone calls, voice, fax, and other forms of communications over an internet connection. Unlike a regular telephone that uses landlines to transmit analog signals, IP Telephony transports voice data in packets via a LAN (Local Area Network) or the internet.
How Does an IP Telephony Work?
The IP telephone system uses the Internet Protocol (IP) or other digital protocols to transfer voice communications over the internet. If you use an IP-based phone, the data is transferred digitally on a Local Area Network (LAN) and then transformed to analog voice signals and sent to the PSTN.
Hosted VoIP is the most popular IP telephony solution. With hosted VoIP, your provider handles the routing of calls, call queues, and everything else in the cloud. Your business gets the advantage of advanced PBX features without hardware installed on-site.
Benefits of Using IP Telephony
Cost-Effective
If you are currently using a landline business phone solution, you can save big by making the switch. Hosted IP phones give you all the features of a business phone plan, such as unlimited calling, unlimited inbound faxing, voicemail to email transcription, advanced call analytics, etc. for less.
More Advanced Features
IP telephony gives you access to more advanced features without extra hardware. Some of the features include Advanced Call Routing, Auto Attendant, Call Queues, Call Pop, Call Recording, IVR, Instant Messaging, Video Conferencing, etc.
CRM and Other Business Tools Integration
IP telephony can let you centralize and unify data across multiple channels. This makes it seamless to integrate voice communications with your CRM and other business tools. You can automatically sync call data with your existing CRM software and business apps such as Salesforce, Dynamics, Pipedrive, Zoho, and Zendesk.
Mobility
IP Telephony gives you the flexibility of connecting to your phone systems anywhere you are. Incoming calls can reach the right agent, no matter where they are. Hosted VoIP also functions with business phone service apps, and agents can make calls on the go on any device with your office phone number.
Scalability
While switching to an IP Telephony system, scalability is one of the significant benefits you get. IP Telephony can scale for your future business for your future. You can connect your employees on a single network even if they are in multiple locations. Also, there is no need to install a new communication system.
IP Telephony Features That Empowers Your Business
Not all IP phone solutions offer the same features. However, here are IP Telephony features to look for to empower your business:
Call Routing: With advanced call routing, never connect a customer call to the wrong agent again.
Auto Attendant: An auto-attendant is a virtual receptionist that helps answer, escalate, and route all incoming calls without the need for a human.
Instant Messaging: SMS allows you to send notifications to customers or update your field teams.
Call Analytics: Hosted VoIP can record and process all sorts of call data for you to glean insight to improve your business.
Call Forwarding: Never let a call remain unanswered. Forward calls received by office phones to mobile phones or other devices.
Call Queue: Call queue automates the distribution of inbound calls.
Call Recording: Call recording makes it easy to record phone calls.
Call Screening: Call screening feature uses caller IDs to make decisions and filter which calls to decline, accept, escalate, or send to the voicemail.
Call Transfer: This feature lets you move a live call from the original recipient (usually it's you) to another person.
Custom Music on Hold: This feature plays audio files while your customers wait for a response.
Custom Ringback: Custom ringback allows your team to set the audio callers hear when they contact your business.
Find Me/Follow Me: Find Me lets you receive calls anywhere. Follow Me reaches you across multiple phone numbers.
Speed Dial: Dial shorter numbers to make phone calls to frequently called lines. No need to memorize.
Voicemail: Leave callers with the option to leave a voicemail when you are not available. This makes callers feel that they have not wasted their time calling you.
Video Conferencing: For meetings, product demos, contract negotiations, and more
IP Telephony Deployment Methods
Single Site
For the single-site deployment method, the call processing agent is located at a single site, and a LAN is used to carry traffic internally.
Multisite WAN
With Multisite WAN and centralized call processing, the IP WAN transports voice data from one site to the other. This model is ideal if your business has a central site with multiple smaller sites.
Multisite WAN with distributed call processing is deployed at multiple different sites, and each would have its call processing agent. This model works for businesses with multiple sites in different regions that require full features.
IP WAN Clustering
Larger organizations with users across several different sites might consider this deployment method. Each site is connected via IP-WAN with QoS features. This model offers a unified plan, shared line appearances, and feature transparency.
IP Telephony Protocols
IP telephony depends on open-source protocols to transfer data from the phone to the service provider. Here are the IP Telephony protocols:
Session Initiation Protocol: Session Initiation Protocol (SIP) is a signaling protocol that establishes a 'session' between two or more participants.
H.323: The H.323 protocol is for the initiation, modification, and termination of a session.
Real-time Transport Protocol (RTP): This transmits audio or video in packet format across the internet.
Real-Time Transport Control Protocol (RTCP): This works in tandem with RTP and is defined in RFC 3550. It is the protocol that transmits control packets to call recipients
Secure Real-time Transport Protocol (SRTP): SRTP is defined as RFC 3711 and is used for WebRTC technology to add security elements such as message authentication and confidentiality.
Session Description Protocol (SDP): Published as RFC 4566, SDP defines the type of multimedia communication session for session announcements and invitations.
The Bottom Line
Want to save costs on a business phone system while getting unrestricted access to advanced features?
Here at ULTATEL, we understand client communication needs and pride ourselves in providing tailored solutions to businesses of all sizes.
Ready to get started and select a plan that's right for you? Our small business phone system plan pricing starts at $24.95 per month per user for a team. With ULTATEL's array of unique features and unlimited offers, you'll get to enjoy more benefits without the additional costs.
As a leading expert in digital marketing, integrated campaigns and marketing strategies, Tim has led award-winning marketing communications teams for several communications companies. In addition to serving as the Director of Marketing for ULTATEL, he is also the Kansas City president for the American Marketing Association.