The Complete Guide to Contact Center Outsourcing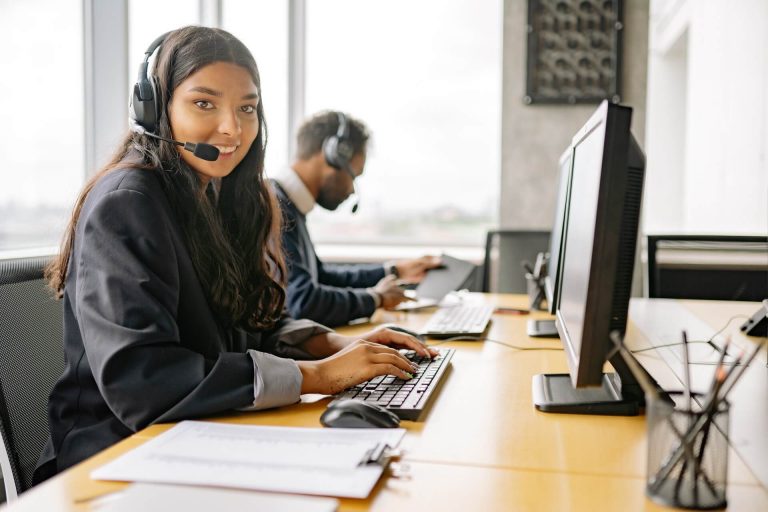 As a business, customers need to reach you, and when they do, someone needs to respond no matter the channel used. However, getting and training the right agent to handle your customer service effectively can be very demanding – this is where contact center outsourcing comes in.
This article is an extensive guide to all you need to know about contact center outsourcing.
What is Contact Center Outsourcing?
Contact Center Outsourcing means allowing a third-party service to manage and handle the contact center of your business on your behalf.
The outsourced contact center works in alignment with your business needs. They receive and make calls, reply to messages and emails, engage on social pages and carry out other contact operations.
Contact center outsourcing lowers your overhead costs as a business. It also allows you to direct your energy on other vital parts of the business such as product development, brand building, and sales.
How Does Contact Center Outsourcing Work?
Here are a few things to know about how contact center outsourcing works before operating one for your business:
Identify your needs
Before handling your contact center or call center to a third party, you need to outline your needs and know where an outsourced contact center will fit to support those needs.
Make sure there is an alignment of goals
When looking for a contact center to outsource, finding a call center partner that aligns with your business goals and is result-driven is important.
Tracking Performance
You need an outsourcing partner with the right tools to evaluate performance at any time based on set KPIs.
No Micro-management
One of the main reasons for outsourcing is to focus on other important parts of your business. You do not want an outsourced call center where you have to micromanage before they deliver on your KPIs.
Transparency is Key
Work with a contact center provider that doesn't keep you in the dark but is transparent and provides regular check-ins.
What are the Advantages of Contact Center Outsourcing
Here are the benefits of contact center outsourcing:
1. Saves Time and Money
Building and maintaining a high-quality service contact center is a full-time business. It is high-cost and demanding. To deliver exceptional customer service, much time and resources go into hiring customer-minded employees, training, and managing them.
A contact center as a service takes all these responsibilities and saves you time and money. It is a business decision well worth the investment.
2. Handles Complex Call Center Tech
Today's fast-paced information technology can be a handful to keep up with. With IP PBX and IVR networks, CRM software and ticketing processes, and advanced functions, things can become complicated quickly, and you need external IT consultants to come to your rescue.
Call Center Outsourcing solutions handle all the complex software and help you acquire customers while managing multiple communication channels. In today's business world, you don't want to fail to keep up with technological innovations.
3. Provides 24/7 Customer Service
If you're an eCommerce store, you understand that online experience is a huge deal, and you need to be there for your customers and potential customers 24/7. If you're not, you lose them to the competition especially if they're a new visitor.
With several options out there and to avoid missing out on significant sales, outsourcing your customer service is likely the best option. Also, people do impulse buying a lot, and offering 24/7 support helps to immediately offer assistance or answer questions while shopping on your website.
4. Works with the right schedules and is flexible
Smart contact center outsourcing services usually know how to schedule the right agents according to peak times and channels. With CRM and VOIP software, they are flexible to scale up their workforce whenever you have a sale or introduce a new product.
This means that as a business, you don't need to bother about scaling up, employee training, hiring, scheduling, etc.
5. Delivers Omnichannel Customer Care
Consumer behaviors change all the time. While most people still use voice/phone, McKinsey predicts that 75% of customers will soon use multiple channels. With the myriad of available channels today, they can communicate with a business however they want.
With access to cutting-edge tech, outsourced contact centers support the latest communication trends and deliver omnichannel customer care services to your customers and potential customers.
What are the Disadvantages of Outsourcing a Contact Center?
Here are the disadvantages of contact center outsourcing:
1. Communication Barriers
If the first language or accent of the agents in the outsourced contact center differs from your customers', it could result in communication barriers. The different accents can negatively impact comprehension and customer experience. Coming from the same culture and hearing the same accent can have a more positive customer experience.
2. Lack of Brand Knowledge
Since the call center agents are external workers, they'll lack some knowledge about the brand. Although they will be trained, they may not be able to handle very technical inquiries.
3. Lack of Team Collaboration
Since employees are not working in the same building, that sense of team bonding is missing. Thus, there might be a lack of proper information flow within your customer service department.
4. Less Dedication to Customer Satisfaction
Internal employees are more likely to be dedicated to customer satisfaction and strengthening customer relationships. Outsourced call center agents are detached in a way and may not necessarily have the same commitment.
5. Lack of Control over Hired Employees
When you outsource your call center, you have also relinquished your power to hire whoever you see fit for your call center. This is left for the outsourcing services to handle. If you found out there was a bad hire, you do not have a say in that situation.
6. Takes Away Local Job Opportunities
By outsourcing call centers, businesses are taking away employment opportunities available for local employees and giving them to off-shore employees. This has some impact on the unemployment rate of domestic labor.
How Much Does an Outsourced Contact Center Usually Cost?
First, it's important to note that these estimates are simply the base rates. If you need more specific advanced skills, the per hour costs will be higher. Also, USA-based outsourcing doesn't mean that agents necessarily speak English as a first language.
With that said, here's how much you should expect to pay when looking for inbound and outbound outsourced contact centers:
Inbound Contact Center Costs
USA-based – $23-28/hour.
Nearshore (Mexico, Eastern Europe, or Latin America) – $12-17/hour: Slightly cheaper but you lose the advantage of getting near-native English call agents.
Offshore – varies depending on the country. Outsourcing could cost between $4-10/hour in Pakistan and India. More affordable but you lose many benefits of on- or near-shore outsourcing, especially in customer loyalty and retention.
Outbound Contact Center Costs
Pricing for inbound and outbound are mostly similar across the locations:
USA-based – $22-28/hour.
Nearshore – $9-16/hour.
Offshore – $5-10/hour. Here it also depends on the country, India and the Philippines charge less than Eastern Europe or the Middle East.
How to Choose Contact Center Outsourcing Providers
In finding the right contact center outsourcing provider, you have to be sure you get the right fit for your business. Here are ten tips to guide your choice:
1. Size
Is the contact center big enough to manage your needs, but small enough to give your business the time it deserves?
If your customer service programs fall under the 100 seat range, find a company with about 500 seats or less. If you have 1000+ seats, you should consider multinational call centers with multiple sites.
2. Management Track Record
What has the management team done? What is their niche? Ensure you are confident in the ability of the call center management and that they understand your business type.
3. Client Support
Some outsourced contact centers dedicate a manager to work with you while others have you create tickets as if you were a customer. Know which works for you.
4. Associate Match
The call center will be representing your company. Ensure the personality of the contact center folks matches your brand personality.
5. Ask the right questions about the tech services you need
Based on whatever advanced functionalities you need, do they have the facility to support it? Are they a multi-channel facility? Do they have call recording, private client monitoring, and speech analytics capabilities? Can they handle any connectivity issues? Asking the right questions gets you closer to finding the best contact center partner.
6. Onshore, Offshore, or Hybrid
Before making this decision, understand your customer behavior and remind yourself of your business objectives. Some businesses do well with offshore outsourcing while others don't.
7. Go for Site visits
Site visits are important for you to know the company culture of your prospective call center.  Do the agents look like they want to be there? How much are the agents paid? What additional work benefits are available? How is the management chosen?
You cannot expect agents to treat your business well if they are not valued where they are.
8. Onboarding and Training
How are new employees on-boarded? What training do they receive? Is there ongoing training? How is internal monitoring handled? Agent onboarding and training are vital to the success of your relationship with the outsourced center.
9. Ability to Scale Seamlessly
Ask your prospective contact center how they handle increases in call volumes based on customer needs and demands.
10. Security
Data security is a top priority. Choose a PCI-compliant contact center. Only work with paperless companies and ensure they have a no cell phone policy.
Top Contact Center Outsourcing Providers
Here are the top contact center outsourcing providers across the world:
1. TeleDirect
TeleDirect is one of the best call center outsourcing companies out there. They offer both inbound services and outbound services, including live chat and email management. It offers both Spanish and English which makes them bilingual.
2. Call Connect India
Call Connect India provides voice and non-voice services and offers a voice broadcasting service that streamlines messages to many customers at once. They are based in India but have an office in Florida.
3. 1-888-GO-ANSWER
1-888-GO-ANSWER offer both inbound and outbound services but are well known for their outstanding inbound services, which include support via live chat, telephone, email, and text. They have plans that support different ranges of call volume. Based on what your business requires, you can ask for a customized plan.
4. Global Response
Besides contact center services, Global Response also provides services such as interactive voice response, social media monitoring, real-time data reporting, email and chat support, order fulfillment and warehousing, and customized technology integration with your business.
5. Five Star Call Centers
Five Star Call Centers offers both inbound and outbound services, but are well known for their outbound services. The outbound services include upselling and cross-selling, cold calling, market research, surveys, crisis management, etc. You can also get a custom-built package more specific to the needs of your business.
Managing Contact Center Outsourcing Provider Relationships
Maintaining a good partnership with your contact center is crucial for business success. Here are some tips to ensure the relationship between your organization and the outsourced contact center remains positive:
Don't Treat Your Outsourcer Like a Vendor
Your outsourced service center speaks to your audience and represents your business. You should see them as an extension of your company. Have a process where you give constructive feedback. Communicate regularly. Even when they make a mistake, handle it in such a way that it does not affect the relationship.
Communication is key. You can even take them out to dinner. Generally, develop a close, professional relationship with your outsourcing partner.
Be an Active Part of Training
This is very important. Your agents should know who you are. They should be able to place a face to the client. No matter the size you are onboarding with the outsourcing provider, be present in person or at least on a video call for the first few classes.
Dedicated Point of Contact
Have a dedicated point of contact within the contact center. This is usually the Client Services Manager. This is someone who can help you with any questions or requests you have at any point.
Have Weekly Calibration Sessions
Have weekly meetings where your team and your outsourced call center partner listen to recorded live calls and assess if you're both on the same page. Ensure you both have similar scoring mentalities and be consistent in your scoring week after week.
Have an Escalation Process
Your outsourced contact center should never want to hide something from you. You need to be aware of any ongoing issues. Have an escalation process where issues are reported if things get out of hand.
Status Calls and Reviews
Have weekly status calls where you catch up on stuff like handle time, call volume, whether you need to add more agents, and other short-term adjustments.
Have quarterly reviews where you discuss your call center program from a wider lens. This could include talks on agent sentiment, customer sentiment, speech analytics, or upcoming long-term changes.
The Bottom Line
Whether your business pursues outsourced contact center services or not, the decision is yours! Every organization is unique, and what works for one might not work for another. However, if you've decided that outsourcing is the right move for you, our cloud contact center solution will transform your customer experience and drive your business success.
Greg is the product marketer for ULTATEL. He develops and markets products that help people do their best work, and enables the businesses they work for grow their revenue.