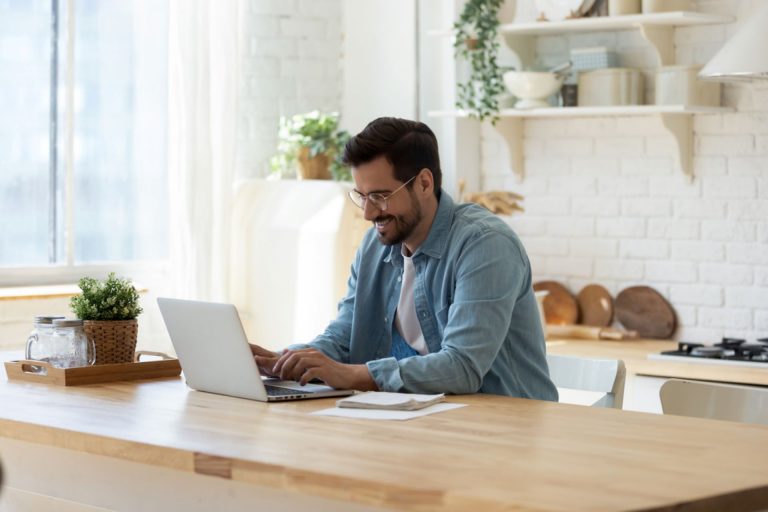 Communication is a crucial factor in all our lives. For businesses, it's even more important than that. Why do you ask? It's because if there is an app that helps make communication back and forth smooth and precise, your business will be successful. A VoIP app is the best choice for a slicker to communicate inside and outside your office space, which will make your daily operations and help you ensure strong relationships with your employees, customers, and clients.
There are many ways of communicating. Phones, texting, SMS, emailing, video calls, and voice notes, but one of the most popular and known methods is a VoIP (Voice over Internet Protocol) application. A VoIP allows you and your employees to communicate whichever way they please, by just using the internet.
SMDs and Enterprises choose VoIP due to many reasons. To list, VoIP is a more affordable option for any sizable business. Additionally, it has many high-quality features, including; many subscription options, high-quality connection, offers, team messaging, SMS, voicemail, video conferencing, and phone calls anywhere there is a reliable internet source.  
Whether you're switching to VoIP from a legacy system for the first time or shopping for an upgrade, here is a list of 10 of our favorites for you to choose from.
But first.
What are VoIP apps? 
Voice over Internet Protocol (VoIP) apps are software applications that can be conveniently installed on a range of smart devices, including smartphones, tablets, and computers. These apps allow users to make and receive calls over the internet, using the device's internet connection rather than a traditional phone line. Some popular examples of VoIP applications include Skype, Viber, Zoom, and WhatsApp. With these apps, users can enjoy a range of features, including free or low-cost calls, video calling, and messaging. Overall, VoIP apps offer a flexible and cost-effective way to stay connected with friends, family, and colleagues, no matter where they are in the world.
Ranking Criteria for Best VoIP Apps
Based on the following factors. We choose the best 10 VoIP apps;
Pricing: As an SMDs or an Enterprise business, you must have a budget for your business. So, considering that each of these apps has different costs, consider that when browsing. 
Call quality: If you need reliable internet, wait to purchase a VoIP app until you get one. VoIP apps solely rely on a great internet connection. A great internet connection translates into better customer service and customer experience for your employees, customers, and clients. 
Functionality: Every modern business in this century has needs. A phone system like VoIP phone service is a crucial asset to your ever-growing company. When we mean "functionality," we mean unlimited calling options, saved replies to messages when you're not at your computer or mobile, call recordings to record meetings or leave voicemails—one of the benefits is no lagging when you use your VoIP app, especially when there's a client present. The best VoIP apps can be available on any smartphone or computer. 
Support: One of the best features VoIP offers is 24/7 customer service. However, as we've mentioned before, you can only connect to the best customer service and fix your problems with your internet working. A dependable internet connection is needed here. 
10 Best VoIP Apps in 2023
ULTATEL HUB 
Grasshopper 
Vonage Business Communications 
Nextiva 
Skype 
Viber 
Dialpad 
CloudApp Talk 
Zoom 
WhatsApp 
It is a provider of cloud-based phone solutions that enables all sizes of businesses and their teams to stay connected at any time and any place that has a reliable internet connection. Ultatel was written about in the Top 10 VoIP Solutions Providers list in Enterprise Networking Magazine.
Key Features:
HD voice and 1080p video calls 
Team messaging 
Video conferencing 
24/7/365 days support 
Great business collaborations 
Microsoft Teams and CRM Integrations 
Has advanced Interactive Voice Response (IVR) 
Advanced call analytics 
Pros: 
It has voice, SMS, fax, texting, chatting, and video conferencing that is fully customizable. 
Easily scalable. 
Fully managed services that work on the same device, anywhere you are. 
100% satisfaction guaranteed. 
No overcharge fees and no hidden costs. 
A personal project manager is only dedicated to your company.
Supported worldwide 
No setup fees 
Cons:
It does not offer a free trial 
No premium consulting 
Platform: Mobile and desktop 
Pricing: $24.95 per user per month (has monthly specials) 
Grasshopper has been around for over two decades. It's an application that offers many plans, but it is more suitable for small businesses. This app is for you if you are a small business that does not need multiple numbers or phone extensions!
Key Features: 
Voicemail to text transcriptions. 
Number porting 
Gmail integration 
Works on both iOS and Android 
Instant response 
Business phone number 
Virtual fax 
Custom greetings 
Simultaneous Call Handling 
Call transfers and extensions 
Pros: 
Features like custom greetings, extensions, call handling, and more. • You get your business phone number.
Setting up is very easy; it only takes a couple of minutes. 
24/7 support is included in every plan: Via phone, email, Twitter, and Facebook chat. 
Works with your existing phone—no need to buy additional equipment. 
It offers a free trial. 
Download the app from your smartphone or computer. Has iOS and Android versions available to be downloaded. 
Cons:
Best for small businesses. So only some companies should subscribe. • Charges per line, not per user. 
It does not have call recordings or phone call features 
It does not offer premium consulting or integration services
Platform: Mobile and desktop 
Pricing: As low as $14/month with their current offer. 
It is an American cloud communications (CPaaS) provider for businesses and consumers that makes it possible for teams and clients to communicate on any device through a cloud-hosted feature. It is also one of the first apps to provide VoIP phone systems. It offers mobile and desktop apps, unlimited calling and SMS messages, complete team messaging, and call recording. It all comes in the most extensive plan they offer.
Key Features: 
Unlimited SMS to Canadian numbers 
Toll-free numbers 
Call recording 
Built for Enterprises 
Pros: 
It is one of the oldest apps 
Offers mobile and desktop apps 
Offers unlimited callings, SMS messages, team messaging, and call recordings.
Toll-free numbers 
Have different plans you can choose from 
CRM integrations 
Best VoIP app for businesses with many iPhone users, thanks to features like Siri integration 
Cons: 
It is only made for Enterprises. If you're a small business, search for something that is more cost-efficient. 
One of the oldest apps 
No voicemail recordings 
Lots of hidden fees 
Expensive overtime to keep up 
Platform: Mobile and desktop 
Pricing: Starts at $19.99 per user per month 
Offers you all the possible tools for conversations in one place with voice calls, SMS, video, and email with customer service and productivity tools. Nextiva has become popular and one of the most widely used VoIP systems.
Also, Nextiva integrates with famous platforms like Salesforce, Microsoft Teams, and Zendesk. Nevertheless, if you'd want these extras, you will need to pay more for integrations.
Key Features: 
Unlimited voice and video calls 
Internet fax 
Caller ID 
Mobile and computer apps 
Pros:
Reliable customer service 
Offers caller ID 
It can be installed on your mobile and computer apps as well • Has unlimited voicemails and video conferences (voice and video) • Conversation tracking 
Amazon, YMCA, Panasonic, vetch, TACO BELL, United Way, and BARSTOOL SPORTS are a couple of clients. 
Cons: 
If you need more lines, you will have to upgrade your plan. • It's expensive for small businesses. 
It does not have a free trial option for users. 
Platform: Mobile and desktop 
Pricing: Starts at $23.95 per user per month (for 1-4 users) 
It is a telecommunications application that Skype Technologies operate. Skype is an excellent option for a startup business. Some of Skype's features are; managing video calls, voice calls, and SMS in a separate application.
Key Features: 
Allow up to 100 participants to be in one video and voice call • A computer and mobile application 
Suitable for solopreneurs or personal use 
Pros: 
High-quality video conferencing 
Desktop and mobile app 
Perfect screen-sharing option 
Scalable communication tool- user friendly 
It enables more accessible internal communication, safe content sharing, and collaboration. 
Informal workplace instant messaging. 
Office 365-compatible. 
Cross-platform synchronization is possible.
Offline email messages. 
Syncs with outlook calendar 
Cons: 
Has no caller ID 
You can only make domestic calls to non-Skype users in the US if you subscribe to their paid plan 
Sending an MMS message is and isn't impossible 
Skype lacks basic calling features 
Skype is restrictive if your team plans on growing 
Only used for a team with 20 employees 
The chat history erases when closing the chat window
Platform: Mobile and desktop 
Pricing: Starts at $3.59 per month for 2,000 minutes (calls only to the US, Guam, and Puerto Rico) 
Viber, or Rakuten Viber, is a cross-platform voice-over IP and instant messaging software application. Viber is a free VoIP app that is not common in the US but prevalent in other parts of the world. You can make calls with Viber anywhere and on almost any device. It's available on Windows, Mac, Linux, iOS, and Android.
Key Features: 
Video and voice calls, including international ones 
Group chats and calls 
Stickers and GIFs 
File sharing 
Application available on your smartphone or computer 
Pros: 
Always secure 
On mobile and desktop 
Offers international calls
File sharing between anyone who has Viber 
Cons: 
It doesn't offer any business-oriented features like; analytics or automated replies. 
Platform: Mobile and desktop 
Pricing: It starts at $5.99 per month for unlimited calling. 
This option is one of the best VoIP apps; it offers businesses features like conference calls and the possibility of going in and out of different phone calls between other devices.
Key Features: 
IVR 
Call recording 
Google Workspace and Office 365 integrations 
Analytics 
Voicemail transcriptions 
Pros: 
Setup is effortless 
Unlimited phone calls and sending messages (both SMS and MMS) to the US and Canada 
Call quality is excellent 
Shows records of customers' calls and messages 
Organizes employees 
Creates an index of customers
IVR and AI language availability 
Clear sound on calls 
Automatic responses on calls and messages 
Cons: 
You must pay separately for toll-free numbers even after an upgrade • Cannot send international texts 
You cannot set up auto-replies unless you upgrade 
Google Voice 
The desktop application is challenging to navigate 
Voice-to-text needs improvement 
The app can slow down your computer 
Spam calls aren't always filtered 
Weak customer service 
It is expensive for the pro account, which is required in large businesses. 
Platform: Mobile and desktop 
Pricing: $15 per user per month 
It is a cloud-based phone software for sales and support teams in any business. This VoIP system targets most companies that want to enhance their team's communication capabilities. Also, to increase their number of prospective clients. This software, CloutTalk, joins numerous tools, like voice, video chat, SMS/MSM, file sharing, and more.
Key Features: 
Concurrent calling 
Record calls 
Generates location 
Click-to-call
Daily summaries of your company's conversation and analysis
Session routing and queuing 
Pros: 
Daily summaries are sent to your company to help your business follow up. 
It generates the location of where the device or phone call. • All you have to do to call is click. 
It records your phone calls if you want it to. 
Uses CRM or eCommerce tools. 
Your bill comes once a year. 
Cons: 
It might be out of your budget to keep up with 
Your bill will come once a year, so you must be aware.
Platform: Mobile and desktop 
Pricing: Plans start at $25 per month, billed annually. 
Zoom is the most talked about video and voice conferencing. Zoom just recently developed and released the Zoom Phone. It offers desktop and mobile applications that let you make calls and perform basic tasks.
Key Features: 
Video and voice calls 
A well-known brand 
Offers desktop and mobile accessibility 
Pros: 
Voice and video meetings 
Mobile and computer application
Helps you with simple tasks 
Supports large audiences 
Google Calendar support 
Scalable for Small, Medium, and Large businesses 
Easy to use 
Stream your webinars on Facebook 
Cons: 
Outgoing calls are measured and charged for 
Too many subscriptions and add-ons 
Lack of comment control 
HD video is NOT standard 
Inconsistent cloud file sizes 
Loading time speed when signing in or out 
Sometimes it buffers, is unstable, or freezes during your video or voice calls. 
Platform: Mobile and desktop 
Pricing: Plans start at $10 per month on the Pay-as-you-go plan. 
WhatsApp is a popular web-based messaging platform usually used among family and friends. It offers VoIP calling that does not work worldwide. It also has an option for one-to-one conversations, broadcast messaging, or group messaging. It is not a business concern, but you can access a business number account. Lastly, this application is also FREE.
Key Features: 
End-to-end encryption 
User-to-user calls and video chats 
Instant messaging 
Pros:
It's FREE 
Downloadable on mobile and desktop 
A significant quantity of space 
International phone calls 
User-friendly 
Share live-location 
Email chats 
Reduce data usage for calls 
Ads free 
Send documents 
Cons: 
Does not work internationally 
It is not made for businesses 
No virtual assistant 
File size limit 
No sign-out options 
WhatsApp calling limitations 
Self-destructing messages 
Security breaches 
Weak data protection 
Poor web interface 
Slow response to consumer needs 
Platform: Mobile and desktop 
Pricing: Free 
Summary
Investing in a VoIP phone system enables your business into the new age. Ditch your old landline telephone and upgrade to the modern world. VoIP apps are essential for your work team. It is especially crucial for remote or work-from-home workforces. With any of these ten apps, your employees can make voice or video calls from the comfort of their homes.
All of these apps can be used with good internet connections. Some even have free trials and multiple plans to choose from.
Our mission is to completely revolutionize how companies conduct business by delivering the most comprehensive suite of cloud-based telephony, unified communications and contact center services. Our solution dramatically improves customer experiences, invigorates employee productivity and integrates business processes for greater revenue growth.