What is a Contact Center?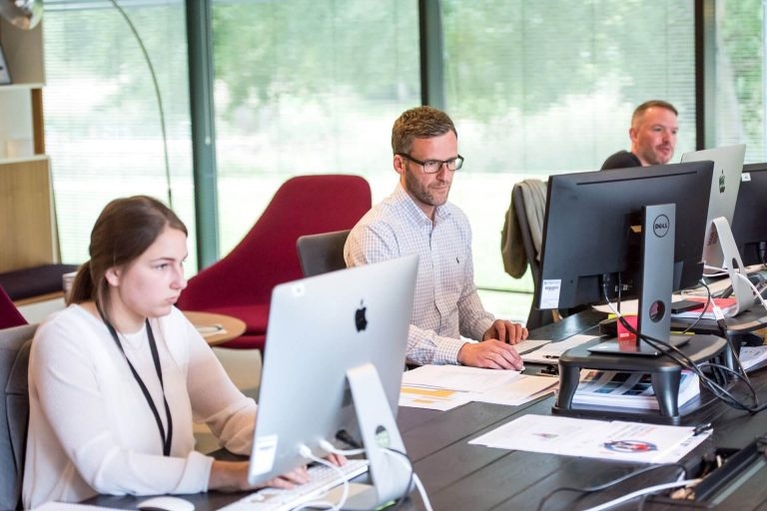 Today, customers communicate in different ways they choose. If you as a business still have the phone as your only support channel, you're not only leaving money on the table but also missing out on new opportunities to connect with your audience. This is the communication gap that contact centers aim to bridge.
This article discusses what a contact center is, how it works, and the benefits and technologies to help you consider having one for your business.
What is a Contact Center?
A contact center is where organizations manage all customer communication over multiple channels. They offer technical support, customer service, and sales assistance to customers and potential customers.
Contact centers typically have one or more call centers. They handle other channels such as emails, webchats, and social media interactions and integrate with customer relationship management (CRM) software.
Customer behavior keeps evolving and they can reach via other channels besides calls. Contact centers take an omnichannel approach to address this enabling them to deliver top-notch customer service, increase efficiency and create better customer experiences.
How Do Contact Centers Work?
Contact centers have agents who handle customer inquiries across multiple channels including calls, email, chat, voice over IP (VoIP), and websites. Here are some key features that describe how contact centers work:
Automatic call distributor (ACD) systems: to enable the customer contact center to take more calls while maintaining efficiency and a positive contact center experience.
Real-time reporting: to help contact centers observe in real-time and evaluate agent performance across the various channels.
Scripts: This provides contact agents a framework to give effective support during calls and to be able to convert sales.
Interchangeable assignments: Call agents who share contacts can work interchangeably on them while maintaining separate locations.
What's the Difference Between a Contact Center and a Call Center?
Contact centers and call centers both serve as main contact points for businesses and their customers but differ in the channels used and the overall experience. While both handle inbound and outbound calls, contact centers take things much further.
Call Center
A call center handles customer telephone calls; inbound (answering customer questions, offering support, or taking orders) and outbound (cold calling, soliciting feedback).
Call centers have been the standard for B2C communication for decades, and they traditionally rely on on-premises hardware to distribute high call volumes across available customer support agents.
Contact center
A Contact center handles inbound and outbound calls and other communication channels including live web chats, text messaging, messenger apps, email, video chat, social media, and managing virtual agents and chatbots.
Contact centers are big on customer experience. They employ advanced software solutions to have a high level of customer personalization that is not obtainable with regular call centers. The omnichannel approach of contact centers allows customers to move freely between channels and agents and still enjoy a smooth experience.
Benefits of Contact Centers
Seamless customer experience is the main goal of the omnichannel contact center. Effective contact centers aim to ensure consistency of communication across the entire customer lifecycle.
Here are some more benefits of contact centers:
Agent responsiveness
With a unified dashboard, all relevant data and customer context are available and easily accessible in one place irrespective of the communication channel used. Therefore, support agents can view contact history, see customer past interactions, and fulfill requests in no time.
Reliable Customer Insights
Contact center solutions incorporate analytics and real-time reporting to give you a holistic view of how your business is doing. The track call center interactions and customer communications through channels such as email, social media, messenger apps, websites, etc. The insights garnered can help you make better decisions on how to move your business forward.
Promotes customer satisfaction
An effective contact center enhances a more positive experience for your customers by allowing them the freedom to communicate via the channels they are most comfortable with. This generally increases customer satisfaction.
Greater collaboration
Contact center solutions have a unified dashboard to manage all omnichannel communications. From here, agents can collaborate better to resolve a concern, troubleshoot a solution, or answer a question to the satisfaction of the customer.
Contact centers are highly customer-centric
As previously highlighted, contact centers are designed to enhance customer experience. By unifying channels and personalizing the user experience, agents are wired to have a customer-centric mindset.
Reliability
The primary goal of any contact center is to engage with customers when and where they want. And to have this level of connectivity and engagement you need constant maintenance and high reliable uptimes.
Businesses that manage their communications understand this is no simple task. However, 91% of businesses that moved to the cloud confirmed that cloud-based contact centers are more secure and less prone to downtime in comparison to on-premise models.
Saves time and money
With advanced functions such as interactive voice response (IVR), chatbots, instant messaging, and other self-service options, contact centers save the number of time agents spends on the phone. Quickly sending a text from a computer and answering customers' questions reduces customers' wait times and, ultimately, your overall costs.
Enhances Customer Profiling
With better information collection, contact centers enhance customer profiling. When customers interact with the business, they share information about their preferences and lifestyle. Contact center software gathers these customer data from every channel and compiles it into a single customer profile.
This data can be gathered in a profile and used to improve customer experience in subsequent interactions. More data helps contact centers to personalize communication to benefit specific callers and better route calls and other communications.
Better use of interactive voice response (IVR) systems
IVRs are automated digital assistants that work over the phone through vocal prompts and keypad entries to handle customer inquiries without the need for a live agent. However, they are designed with the customer in mind as some customers just want to speak with a live agent. IVR can predict caller intent and route them to the most appropriate agent available.
Types of Contact Centers and Their Uses
When choosing a contact center, note that there are types of contact centers are hardware, cloud-based, hosted, and virtual. Here's what to know about their uses:
Hardware contact centers
Hardware contact centers are installed and hosted on the business's physical premises. They require organizations to have sufficient space and capacity to house the servers, and competent IT personnel whenever there is a hardware update process.
Cloud-based contact centers
Cloud-based contact centers are internet-based facilities that handle all inbound and outbound customer communications for a company. Communications data are hosted on internet servers and contact center agents can access them anywhere on the internet.
Contact center services provide quick and easy access to tools, applications, and cloud-hosted services for large organizations that require multiple communications channels, sophisticated call routing, agent management and analytics, and other advanced features of moving to the cloud.
Hosted contact centers
Hosted contact centers allow an organization to outsource its call center and manage communications externally. This minimizes costs and maintenance upfront as you don't need to buy most of the hardware, software, and other infrastructure.
Virtual contact centers
These contact centers enable agents to respond to incoming phone calls, emails, social media requests and do other customer service work remotely. They do not exist in a centralized, physical location.
Virtual contact centers give contact center agents more mobility to work while lowering costs significantly for the organization. 90% of contact centers switched to the cloud for financial flexibility.
Contact Center Technologies
Contact center technologies are infrastructure that organizations build on-site with contact centers to support communications — as with hardware contact centers. For the other three types explained above, some organizations outsource the infrastructure or host it externally.
For on-premise settings (hardware contact centers), the hardware and software are installed and managed on-site. The organization is responsible for hiring IT personnel and carrying out the costs of repairs and updates.
Here are the technologies used to maintain and improve contact center performance:
ACD system
An automatic call distributor (ACD) analyzes incoming calls and distributes them based on varying factors, such as the number called.
IVR system
IVR systems enable customers to use a keypad or voice commands to provide information without human assistance.
Email response management system
Collects and analyzes customer inquiries submitted over email and then routes those inquiries to the appropriate agent.
TTY/TDD communications
Teletypewriters (TTY) and telecommunications display devices (TDD) offer assistance for deaf or hard-of-hearing individuals.
Knowledge management system
A central repository of information that agents can easily search, which can cut down on agent training time.
Workforce management system
Helps schedule and staff agents and manage their performance.
Final Thoughts on Contact Centers
Contact center systems often use call center software but build upon them and further integrate services across various channels and enable agents to deliver a more robust customer experience.
Ready to move your contact center to the cloud? Here at ULTATEL, our cloud contact center solution provides everything you need to proactively address customer issues, give an improved experience and take your business to the next level.
Greg is the product marketer for ULTATEL. He develops and markets products that help people do their best work, and enables the businesses they work for grow their revenue.