What Is a Hosted Contact Center?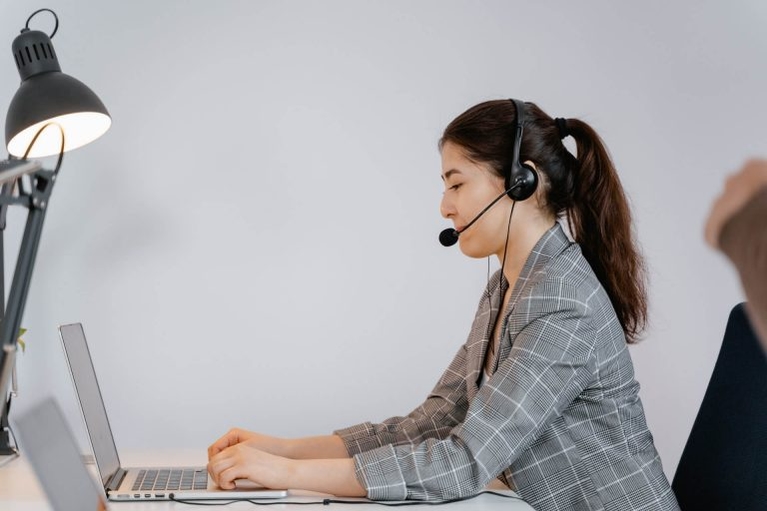 Customers normally expect every company to have multiple contact channels. And while a 2019 survey showed that most people in the U.S. preferred receiving phone calls (42%), 38% and 20% also used digital channels and email, respectively.
Managing the communication stack can be overwhelming and expensive without a system in place. Using a hosted contact center can help, allowing you to keep customers happy.
But before we go on discussing hosted contact center solutions, it is crucial to know the difference between a call center and a contact center. Both are customer service solutions, but a call center only handles voice calls.
On the other hand, a contact center handles voice calls, live chats, Short Message Service (SMS) or text messages, instant messages, emails, and support tickets. Aside from customer service, you can also run all your sales and marketing efforts from one platform. As such, a contact center is better for meeting your communication needs.
A contact center may be onsite (in your main office) or offsite. A hosted contact center is offsite, meaning all your customer contact functionalities and data reside in your service provider's servers.
How Does a Hosted Contact Center Work?
Hosted contact center solutions are software you can access online on signing up for a service. All you need are computers, headsets, and Internet access. Once your contact center is set up and integrated into existing systems, you can immediately enjoy the functionalities mentioned above without interrupting your workflow. What's needed is training agents and supervisors to use the software.
Hosted Contact Center Advantages
For companies, improving customer experience (85%) and providing better service (78%) were the top drivers of investing in contact centers in 2019. The same report also revealed that a majority (55%) moved or intended to move their contact centers to the cloud. And, with projected global market size of $36.1 billion by 2025, there must be a good reason for such confidence.
Here are some advantages of using hosted contact center solutions.

Mobility
You can connect any computer to hosted contact center software via the Internet, so your staff can access its features from anywhere. That is ideal for companies with remote or hybrid work arrangements for employees or field staff frequently on the go.

Agent and Supervisor Features
Supervisors can easily monitor their agents' presence, activities, and stats. They can also ensure high customer service quality through call monitoring.
Agents, meanwhile, can manage multiple calls simultaneously through call queuing, parking, and transferring.
Contact center solutions also have internal communication tools so supervisors and agents can connect even if they are in different locations.

Key Integrations
Most hosted contact center programs can be integrated seamlessly into multiple third-party tools and apps, such as customer relationship management (CRM) software. That allows businesses to access and use past customer data to improve customer service without skipping a beat.
Responsive
Most hosted contact center services come with self-service and call routing automation functions to ensure customers get instant responses to their queries 24×7. Call routing using interactive voice response (IVR) also ensures calls go to the right agents, depending on the customer's question or issue.

Cost-Effective
A hosted contact center typically uses a software-as-a-service (SaaS) or per-user costing model, and service costs can range from $20 to $120 a month. Pricing depends on the service provider, features, and payment tenure (monthly versus annual billing).
Most service providers do not charge separately for the software license or service. You also have the option to add or remove seats as needed, keeping overhead costs low. Moreover, all technical and maintenance costs are included in the service fee.

Detailed Reports
A hosted contact center software makes it easy to manage agents and access detailed reports for each. It automatically captures per-agent metrics, such as:
Abandonment rates
Agent uptime
First-call resolution
Handle times
Queue times
You do not need to micromanage your employees. The software stores all this information so you or your supervisors can access it anytime.

Efficient
A hosted contact center typically includes auto-dialers that can be configured to dial contacts from a list imported into the system. Agents do not need to dial numbers manually, saving them time and effort. That is an excellent way to manage outbound call campaigns and follow up on customer tickets and issues.
Key Features Of Hosted Contact Centers
Hosted contact center solutions, also known as "virtual contact centers," have many useful features for managing customer interactions from one dashboard. Below are the essential ones that all contact center software should have.

Automatic Call Distribution
The automatic call distribution (ACD) feature manages call queues, routing calls to the appropriate agents as they come in. Calls can be diverted to agents based on their specialization and skillset and the customer's needs.
For example, the system automatically routes a call to a Spanish-speaking agent when the customer chooses Spanish. ACD enables agents to engage with callers and address their issues without wasting time.

Reports and Analytics
Even the best hosted contact center services are only as good as the people managing and using them. If a business does not meet customer demands and expectations, the system can provide the necessary data to understand why through reports and analytics.
Most contact center solutions come with a set of business intelligence (BI) and analytic tools to monitor calls and other modes of contact in real-time and acquire historical data to look for trends.
The dashboard may also provide easy-to-access graphical representations of the key performance indicators (KPIs) you set for agents and IVRs. While most people focus on agent performance, the issue may lie with the script or IVR configuration. Hosted contact center software helps you take the guesswork out of the equation.

Omnichannel Routing
Intelligent omnichannel routing is crucial for providing customers with seamless experiences when interacting with a business on several channels. This prevents customers from explaining issues repeatedly as they move from Facebook messenger to a voice call, for example. Omni-channel routing will ensure the agent has all the previously provided information as the system transfers the conversation across channels.

Self-Service Options
An IVR and a chatbot can potentially cut your customer wait times by resolving simple issues or answering straightforward questions without an agent's help. When a customer only wants to get a copy of his bill or the address of a particular business, you can configure the IVR or chatbot to provide that information.
You can also use self-service features to redirect calls or messages to agents when issues or questions are not in the IVR or chatbot database.

Auto-Dialer
An auto-dialer is indispensable for businesses with outbound marketing or sales campaigns since it helps agents save on time and effort. You can also configure auto-dialers to skip numbers marked as "do not call," saving you even more time and helping you avoid complaints and possibly legal issues in some states.
How Can I Set Up a Hosted Contact Center?
Typically, the service provider will provide initial setup and configuration instructions, depending on your needs. For example, if you use social media channels for customer communication, you only need to connect the social media accounts to your software.
You can then add users and agents and assign unique IDs. When agents log in to the system, they can start receiving and making calls, emails, and instant messages.
You can decide how customers can reach agents in most cases, such as through an IVR. The service provider may also provide technical support, especially for integrations into other tools.
Most hosted contact center solutions are ready for use within minutes upon signup. It is a quick and effective solution to manage customer interactions across multiple channels without buying and installing expensive hardware.
What's the Difference Between Hosted and Cloud-Based Contact Centers?
A hosted contact center and a cloud contact center are technically the same. Cloud contact centers fall under the category of hosted contact centers. In either case, the solutions are cloud-hosted, making them accessible from anywhere with Internet access. They also share many key features that you need to consider before choosing a contact center.
But, in practice, hosted contact center solution providers use a third-party cloud service to host the software. On the other hand, cloud contact center solutions are cloud hosting platforms that offer contact center services. Cloud contact center solutions may also come under contact center-as-a-service (CCaaS). Below are some key differences between a hosted and cloud contact center.

Scalability
Hosted contact centers are not as scalable as cloud contact centers based on features because they are hosted on a third-party cloud platform. Service providers may have to work within specific parameters to offer services. That means a client cannot easily increase or reduce the number of agents and capabilities in their service plans. Cloud contact centers do not have that issue as they are self-hosted.

Cost
Cloud-based solutions are more affordable than onsite and traditional alternatives. Hosted contact center services typically cost more per seat than cloud contact centers because they buy cloud space from a third party. Hosted services may also pass on technical or maintenance costs to the client.

Control
If you get your own cloud host, you may have more control over your data and customizations with hosted contact center solutions. Some customizations and configurations are available with cloud contact center solutions, but not as much.
Hosted versus Cloud Contact Center, Which Is Better?
A hosted contact center, which handles more than voice calls, improves traditional or onsite contact centers. It's also more beneficial in terms of scalability, control, and cost-effectiveness. As such, compared to an on-premises hosted contact center, you may get a better deal with a cloud contact center. If you're interested in moving to the cloud and enjoying the many benefits the option offers, check out Ultatel's cloud contact center solution offerings today.
Greg is the product marketer for ULTATEL. He develops and markets products that help people do their best work, and enables the businesses they work for grow their revenue.