What is Hosted VoIP? Everything You Need to Know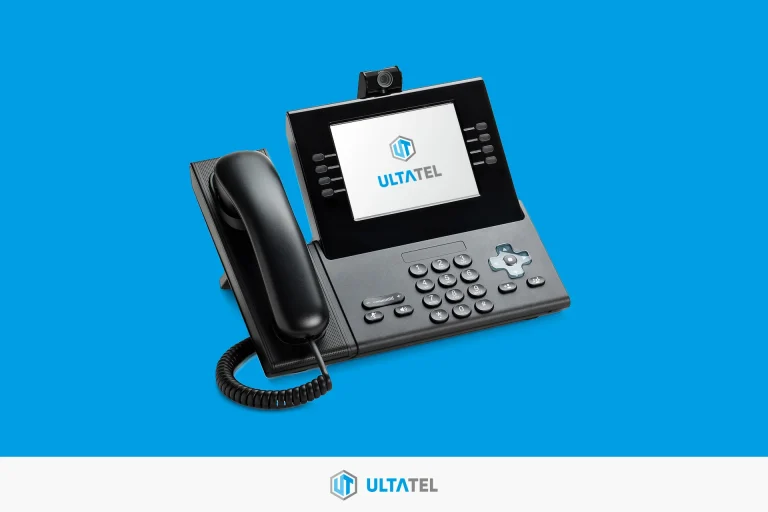 If upgrading your business to a cloud phone system, you may wonder whether hosted VoIP is worth your investment. With this online communication solution, you'll no longer have to build and maintain a series of servers. Instead, you can save valuable business dollars on hardware and time on manual processes.
Still, migrating from a PBX system to VoIP can feel daunting—but it doesn't have to be. If you're unsure whether to adopt a hosted Voice-over-Internet protocol, this guide can help you find an answer.
What is Hosted VoIP?
Hosted VoIP (Voice over Internet Protocol) is a communication technology for making phone calls using the Internet. Unlike traditional phone systems that rely on dedicated phone lines, VoIP converts voice signals into digital data and transmits them over an IP network.
Hosted VoIP servers are managed by a third-party provider rather than self-hosted by the user's organization. In other words, the VoIP service provider handles the entire VoIP infrastructure, including servers, software, and maintenance.
How Does Hosted VoIP Work?
Hosted VoIP uses the internet to transmit voice calls as digital data packets rather than analog signals used in traditional telephone systems. 
When making a call on a hosted VoIP server, it will connect to the Internet through your router. This router transfers data packets to remotely hosted servers, which process and manage the call. From this point, the call routes and connects to the appropriate destination.
If you're calling someone outside your VoIP network, your system will use a gateway to interface with their public switched telephone network (PSTN).
Hosted VoIP Benefits
If you're considering a hosted VoIP system, you're probably keen on enjoying the following benefits:
Cost savings: Hosted VoIP eliminates the need for expensive on-premises hardware and maintenance and cuts down on international call rates.
Scalability: With hosted VoIP, adding or removing phone lines and extensions is easily manageable, making it ideal for growing businesses with fluctuating communication needs.
Flexibility and mobility: Hosted VoIP allows employees to make and receive calls from anywhere with an internet connection, facilitating remote work and improving productivity.
Rich features: Advanced features like call forwarding, voicemail-to-email, virtual attendants, and call recording enhance communication efficiency and customer service capabilities.
Integration with business applications: Many hosted VoIP providers offer integrations with other business tools, such as customer relationship management (CRM) software, allowing for more streamlined workflows and improved productivity.
Reliability and redundancy: Reputable hosted VoIP providers often have redundancy measures and backup solutions, ensuring high availability and reliable communication services.
Easy management and maintenance: Thanks to service providers, businesses don't need to worry about system updates, maintenance, or troubleshooting.
Unified communication: Hosted VoIP can integrate various communication channels, such as voice, video conferencing, instant messaging, and more, into a single platform.
Top Hosted VoIP Features
There are many features to toy with when adopting a hosted VoIP system, so narrowing down the ones you need most can be challenging. Here is a list of the top hosted VoIP features to help you choose:
Auto attendant: An automated virtual receptionist that greets callers and offers menu options to direct calls to the appropriate departments or extensions
Call forwarding: Redirects incoming calls to another phone number, ensuring someone answers regardless of the user's location
Voicemail-to-email: Converts voicemail messages into audio files and sends them to users' email addresses
Conference calls: Enables multi-party audio conferences, facilitating collaboration among team members and clients, regardless of their locations
Call recording: Records incoming and outgoing calls for training, quality assurance, compliance, or reference purposes
Call queues: Manages incoming calls in a queue when all agents are busy, ensuring callers wait in an organized manner and reducing the chances of missed calls
Virtual extensions: Creates extensions for remote workers, enabling them to be part of the company's phone system without a physical office location
Call analytics and reporting: Provides detailed call metrics and analytics, such as call volume, call duration, and response times, to help businesses analyze and optimize their communication strategies
Voicemail transcription: Transcribes voicemail messages into text, making it easier to read and respond to messages quickly
Unified messaging: Integrates voicemail, email, and other messaging platforms into a single interface, enabling users to access all their messages from one place
Interactive Voice Response (IVR): Provides more complex call routing options based on caller inputs or data
CRM Integration: Integrates with Customer Relationship Management (CRM) software to provide automatic call logging, customer information display during calls, and other valuable features
Virtual faxing: Allows users to send and receive faxes digitally via email or a web portal, eliminating the need for physical machines
Call park: Places a call on hold in a "parked" location, allowing another user to pick it up from any phone in the system
Time-based routing: Routes calls based on the time of day or week, ensuring calls are appropriately handled during business hours and after-hours
Top Hosted VoIP Providers
There is no shortage of reliable VoIP providers, so how do you choose one suitable for your business? Consider the table below:
| | | | | | |
| --- | --- | --- | --- | --- | --- |
| PROVIDER | ULTATEL | RingCentral | Google Voice | AXvoice | Onsip |
| Virtual Phone Number | Yes | Yes | Yes | Yes at $3.99/mo | Yes |
| Support Hours | 24/7 | 24/7 | N/A | 8:00 am – 7:00 pm | 8:00 am – 7:00 pm |
| International Calling | Yes | Yes, with charges | Yes, with charges | Yes | Yes, with charges |
| Softphone | Yes | Yes | Yes | Yes | Yes |
| Free Trial | Yes, varied | 15 days | N/A | No | 30 days |
| Activation | Yes | Free | Free | No | No |
| Cheapest Rates | $15.95/mo | $19/mo | Free | $8.25/mo | $8.95/mo |
Frequently Asked Questions
Can you host your own VoIP?
You can host your own VoIP, given that you set up and manage the necessary hardware and software. A self-hosted or on-premises VoIP system demands technical expertise and can be costly up-front.
How much does hosted VoIP cost?
How much hosted VoIP costs depend on monthly service fees, calling plans, number of users, hardware and equipment, international calling, setup fees, contract length, and additional features. However, typical fees cost roughly $20 to $50 per user per month for standard plans.
What are some disadvantages of hosted VoIP?
While hosted VoIP has dozens of benefits, it does have disadvantages:
It depends on the Internet, so calls may be compromised if your power goes out.
Call quality depends on your bandwidth's stability and speed.
Because of geographic limitations, not all VoIP providers can accommodate emergency calls.
Hosted VoIP systems are occasionally susceptible to security threats like phishing and eavesdropping.
In case of system maintenance and updates, businesses must rely on service providers.
While hosted VoIP offers call savings for domestic communications, international rates may still apply.
Summary
Secure, inexpensive, and accessible, hosted VoIP is quickly becoming a popular communications method for businesses of all sizes. By understanding how hosted VoIP works and what advantages you can enjoy, the decision to invest becomes easier.
If you're look for a reliable and always-on hosted VoIP service provider, look no further than ULTATEL. Our impressively fast cloud phone software can keep you connected to customers, stakeholders, and your team all day, every day.
Konstantine is the Head of Digital Marketing at ULTATEL. With a decade of experience in leading marketing strategy, he understands the importance of consistently adapting to the ever-changing digital landscape.